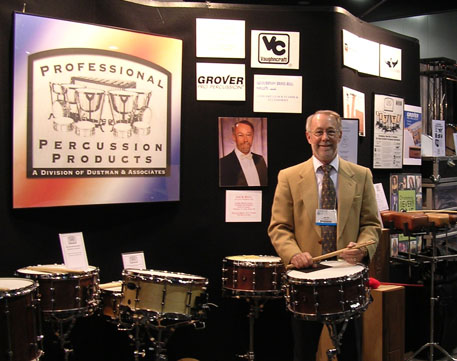 Jack Bell is considered one of America's greatest snare drummers, serving as the Atlanta Symphony Orchestra's Principal Percussionist for over thirty years and the coordinator of Percussion Studies at Georgia State University for thirty four years.
His primary teachers and influences were Harold Firestone and Cloyd Duff.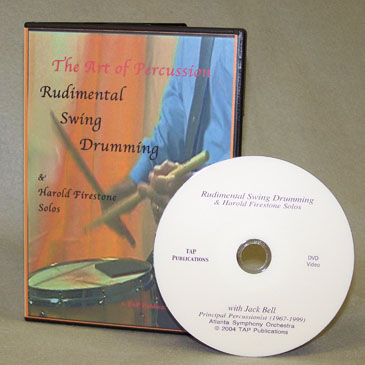 The Art of Percussion DVD, Rudimental Swing Drumming by Jack Bell
This style of rudimental swing drumming bridges the gap between the old N.A.R.D. traditional interpretation and the 26 Standard American Drum Rudiments and the rudimental style used in today's modern drum corps. This 30 minute DVD features Jack Bell demonstrating various aspects of the Rudimental Swing Drumming and performing the five Harold Firestone original snare drum solos found in the book located at the bottom of this page.
Produced by TAP Publications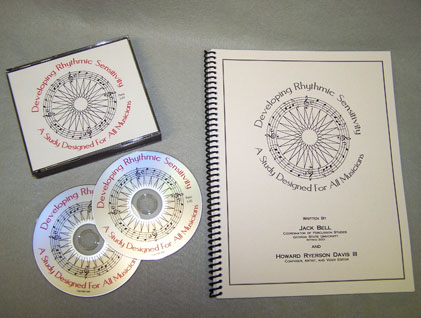 Developing Rhythmic Sensitivity, A Study For All Musicians
by Jack Bell and Howard Ryerson Davis III
Developing Rhythmic Sensitivity is a comprehensive textbook and two-plus hour DVD lecture demonstration of the concepts and rhythmic exercises necessary to accurately perform, teach, conduct and notates rhythmic patterns. The textbook and DVD are the result of Mr. Bell's teachings at Georgia State University, where he conceptualized the book's content over a twenty year period.
The unique, innovative, one-of-a-kind DVD lecture presentation is an invaluable resource for anyone teaching or promoting the study of rhythmic principles in schools or in studio curriculums.
Topics include:

Concepts of Sound and Time
Understanding Meter, Pace and Accents
Conducting in relation to Meter Signatures
Performing Jazz and Counter Rhythms
Hundreds of rhythmic exercises
A detailed student lecture guide is also included with the DVD. The format and submenu's of the DVD follow the companion textbook and allows the student direct access to any topic of interest. The package is professionally edited by the book's co-author, Howard Davis III. Developing Rhythmic Sensitivity is beneficial to anyone learning any area of music, from middle school through college and is an essential addition to all music curriculums.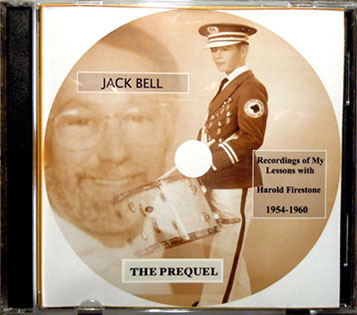 THE PREQUEL:
Recordings of My Lessons with Harold Firestone 1954-1060
by Jack Bell
A compilation of over six years of actual individual lessons recorded by Jack Bell, as a student of Harold Firestone. Mr. Bell attributes a tremendous amount of his ability and accomplishment to those early lessons studying with Mr. Firestone.
For those not familiar with Harold Firestone, he was an accomplished pianist and percussionist devoting his life to teaching others to be exceptional musicians. He was extremely innovative and used his engineering background and his love of photography to enhance his private lessons.
This two disk CD Set captures the realism of performance in private lessons, group performances and the development of skills, abilities and disciplines connecting a teacher and student found only in the most profound of studios today.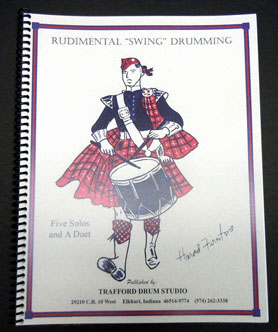 RUDIMENTAL SWING DRUMMING: Five Solos and a Duet
Composed by Harold Firestone
Harold Firestone (1907-1960) was one of the most profound percussion teachers this country has ever known. During his 30 years of teaching, over 565 students were enrolled in the Firestone Drum Studio. Harold was a prolific writer of percussion materials, a gifted artist and a mentor who gave many young lives the principles of systematic thinking, self-discipline and goal setting
This book, "Rudimental Swing Drumming", contains five of his original solos and a duet. All of the material exemplifies his distinctive, eclectic swinging rudimental style and can be heard on Mr. Bell's Rudimental Swing Drumming DVD found in this section.