Which Keyboard Mallet is Best for You?
We are proud to include and showcase select Balter Percussion Products in our orchestral percussion showroom while serving our customers throughout the world. Mike Balter products have been recognized throughout the globe as a standard to which everyone else is compared to. The array of product models, shaft selection and sounds available from this product line allows us to selectively guide and assist each customer to the specific sound and feel of each mallet. Our soundroom includes many of the items specifically showcased in this section.
Call us to make your selection of any Balter product.
Performing Artist Series Marimba Mallets

The Performing Artist Series with medium weight solid cores provides an exquisite fundamental along with a mellow, rich tone. The additional weight of these elongated grey wool yarn wound mallets offers a complete gradation of hardness for today's marimba soloist or ensemble player. Available in longer Satin Birch or Rattan Handles.
Grandioso Unwound Series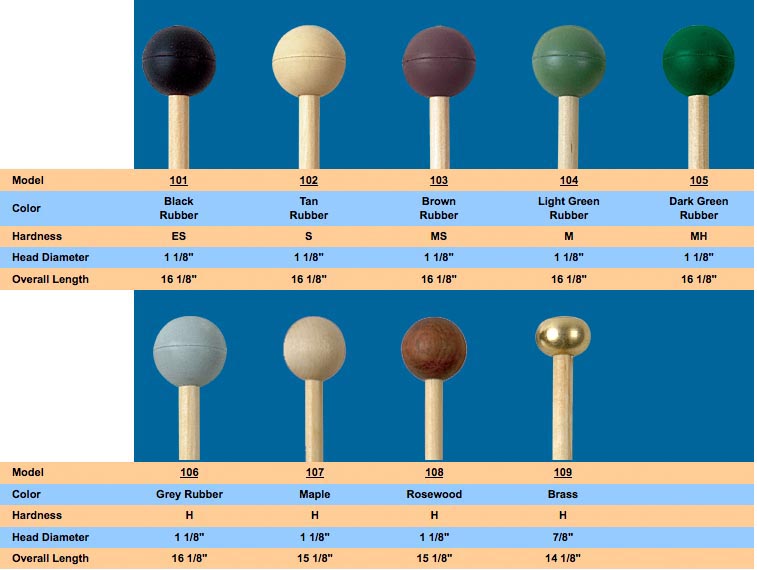 Larger, heavier round mallet heads on longer handles bring your instrument to life with a big, rich tone and strong fundamental. Available in Satin Birch, Black Birch, or Rattan Handles.
Pro Vibe Series

The Mike Balter Pro Vibe Series carries on a heritage of performance and reliability with a distinctive style. The heavier, round shaped cord wound mallet head provides the preferred vibe sound. Ready to impress in any situation, the Pro Vibe Series with its ideal weight and balance is the all-around choice for today's player. Available in Satin Birch, Black Birch, Two-Stage Fiberglass, or Rattan Handles.
Which keyboard handle mallet is best for you?
The choice of keyboard mallet handles is a matter of personal taste. Mike Balter keyboard mallets are available with three different types of handles. Each handle has its purpose and application.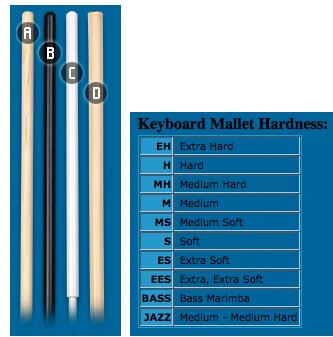 Birch Handles, Satin Birch (A) or Black Birch (B), are a light weight, extremely strong, durable material that supplies a firmer feel. Because of the diminished flexibility especially on long length models, Birch Handles have become the standard choice for today's marimba artists.
Two-Stage Fiberglass Handles (C) are extremely durable and characteristically indestructible. It makes a perfect mallet for outdoor performance.
Rattan Handles (D) provide excellent rebound with an optimum amount of flexibility when striking the instrument. It is the vibe player's choice because of its "give" which is especially useful in mallet damping. Rattan is also an ideal handle for bell and xylophone mallets and is the professional's choice.
When ordering keyboard mallets indicate handle choice by adding the following suffix to each model number: B for Satin Birch, BB for Black Birch, F for Two-Stage Fiberglass, R for Rattan
Gong Mallet Series

Four distinct models meet the needs of the serious percussionist. Large, weighted heads on hard-maple shafts.
Chime Mallet Series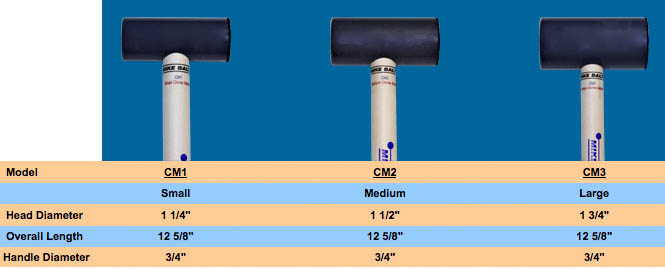 Double-sided head featuring a solid felt striking surface at one end. Long hard-maple handle provides increased proficiency.
Triangle Beater Set
Professional quality double-ended triangle beaters with adjustable counter weights for the percussionist who only wants the best. The Triangle Set, Model TB, includes leather carrying case.
Single Triangle Beater

Professional quality double-ended triangle beater with adjustable counter weights for the percussionist who only wants the best.