My Life In Percussion
Karl Dustman
David Herbert
Timpani Practice Pad
KALFO Imported Irish
Calf Skin Heads
Manfred Kaufmann
Timpani Sticks
Timpani Stick Making
Components
Tim Adams
Educational Materials
Equilibrium
Percussion Products
Mark Yancich Educational
Videos and Products
Jack Bell
Educational Materials
Professional Percussion
Products
P.O. Box 33252
Cleveland, Ohio 44133
Tel: 440-877-9674
Fax: 440-877-9675
Email: kbdustman@aol.com

Updated: 2/6/2022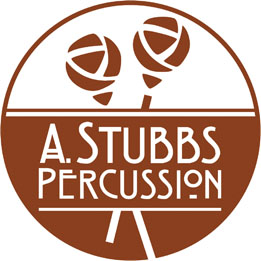 PROFESSIONAL PERCUSSION PRODUCTS proudly announces the introduction of A. STUBBS PERCUSSION to its product line offering.
Recognized for high quality products, designed by and for players demanding the finest
percussion accessories available. Professional Percussion Products is now stocking for immediate shipment the following STUBBS PERCUSSION products:
The long awaited TIMPANI PRACTICE PAD
This completely new and improved Timpani Practice Pad now provides consistent tonal response and recoil. Eliminates table-top bounce/vibration and a more durable wood frame construction. Simulating the exact response of a timpani head with a proprietary pad construction, this pad is portable, features a notched frame so stationary sticks do not roll off the pad, and is beautifully constructed of solid cherry wood with tongue and groove corners. The pad has a skid-resistant bottom surface for tabletop use or can be mounted in most snare drum stand baskets.

Selling Price, $110.00
Playing surface: 11.5 X 5.5". Overall pad thickness, 1.5"

Internationally Recognized TRIANGLE HANGAR
The Stubbs Triangle Hangar has also received a complete redesign, now offering the most resonant triangle holder on the market.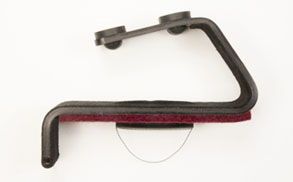 Improved designed enables triangles complete freedom to vibrate, thus producing maximum overtone complexity, articulate projection and enhanced duration of triangle vibration/sound. Rubber insulators at every point of contact prevent any vibrational transfer, creating a consistent tone when held in the hand or suspended from a music stand. The combined weight of your triangle and the Stubbs Hangar provides a stable and secure mounting everywhere along with single-handed removal from stand to hand performance techniques.
Selling Price, $40.00
THE ART OF TIMPANI MALLET MAKING, by Amy Stubbs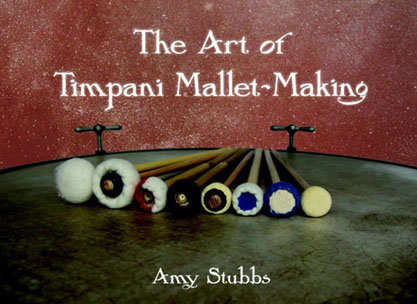 Designed for everyone - professionals to beginning students; skilled craftspeople to first-timers - The Art of Timpani Mallet-Making is a timpani mallet owner's manual to a full step-by-step and how-to guide. The complete realm of timpani and bass drum mallet ownership is presented in detailed with easy to understand processes and detailed illustrations.
With over 180 full color pages containing over 950 photos and illustrations, this NEW Release will quickly become "The Final WORD" - on all timpani mallet making guides. Content includes building new sticks, recovering your existing sticks, care and maintenance of your stick inventory, emergency repairs and a special section on building and covering concert bass drum mallets.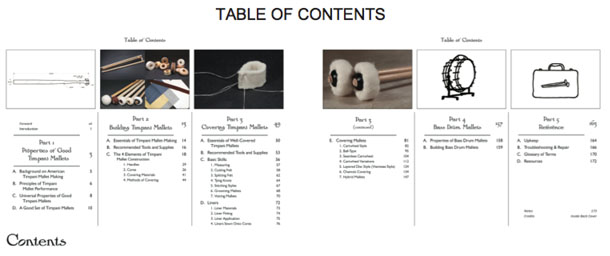 This resource book is a must for every percussion library and player that takes their performance serious while understanding how mallet making principles contribute to the sound of your instrument.
Selling Price, $60.00

PROFESSIONAL PERCUSSION PRODUCTS also provides complete assistance with your stick building and recovering needs. Felt and Wood Cores, End Caps, Paired Bamboo or Cherry Wood Handles. Imported 22X24" German or American DAIMER stick-building felt sheets, imported from Munich, Germany. Component and Daimer Felt Prices Available.

Place your order by calling Professional Percussion Products, Cleveland, Ohio U.S.A.
Telephone-Fax: 440-877-9674
For Factory-Direct Ordering Visit our Showroom or Contact us to Schedule an Appointment
Telephone: 440-877-9674
Fax: 440-877-9675
Email: kbdustman@aol.com