Professional Percussion Products is pleased to announce the launch and introduction of the NEW David Herbert Signature Timpani Stick line. Consisting of eight all inclusive models, the selection encompasses the complete array of sound the Herbert Sticks have been recognized for. The attention to detail in materials and hand made quality will satisfy the most demanding player.
Our by-appointment orchestral percussion showroom exclusively displays a complete set of the Signature Series Sticks for each guest to test, compare and select the models of your choice.
As we have done in previous years, all eight Herbert Timpani Stick models are IN-STOCK and available for immediate delivery.
Thank you for you patience and understanding in waiting for this new series to become available, We are certain you will be extremely pleased with the array of models and quality of the sticks.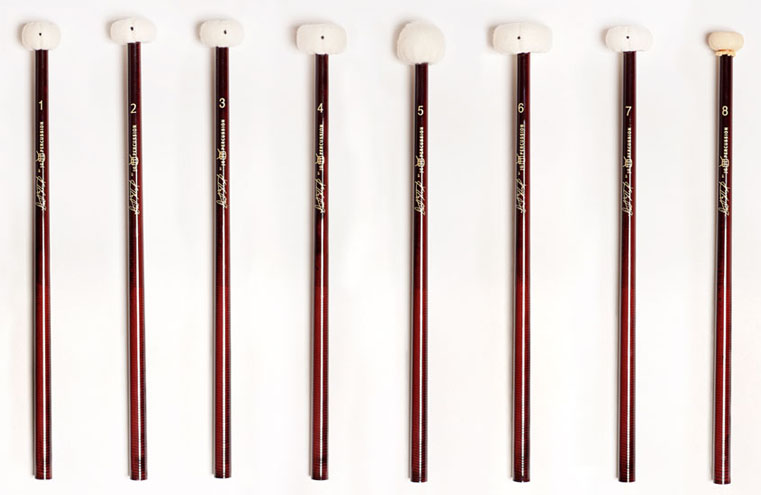 Redesigned and reinvented, we are proud to introduce the David Herbert SIGNATURE line of timpani mallets. Each pair features the same innovative carbon fiber (graphite) shaft as before - and every pair is handmade by JGpercussion.
Each stick is 14.5 inches long (37 cm) and has a slight taper from the handle to the head of the mallet.
Descriptions in parenthesis denote the previous model number.

DH1 "Mozart" (1WA)
Hard American felt over a small wood core. This is an articulate stick that works well for Mozart, Beethoven or any other music that requires the utmost of clarity.
"This stick gives a clear tone with rhythmic incisiveness." - David Herbert

DH2 "Beethoven" (2F)
Soft American felt over a small felt core. This mallet gives a sound that has a combination of articulation and warm, full tone. Works well for rhythmic passages in Beethoven, Brahms, Tchaikovsky and whenever a buoyant, clear sound is required.
"This is a wonderful stick for solo moments in the orchestra; it has a full sound with a clear rhythmic impetus. It is also a great mallet for solo repertoire." - David Herbert

DH3 "Tchaikovsky" (3W)
Soft German felt over a wood core. A great all-purpose timpani mallet. Ideal for all styles and genres, this stick has both rhythmic clarity and a smooth tone for rolls.
"The DH3 is one of the most versatile sticks in my case. It sounds great all of the time!" - David Herbert

DH4 "Medium Rollers" (4F)
Soft German felt over a medium sized felt core. This mallet has a big legato sound for smooth sounding rolls on timpani of any size. Great for when a big presence is needed in the orchestra - it's perfect for Mahler, Brahms, and Tchaikovsky.
"I use this versatile mallet for the full dynamic spectrum including the loudest passages and the softest solo moments, like New England Triptych and Mahler's Fifth Symphony." - David Herbert

DH5 "Ravel/Debussy" (5K)
Ball stick design with soft German felt over a cork core. Back by popular demand, this is an excellent ball-type roller mallet with a minimum of contact sound with the head. The tone quality is beautiful due to the lightweight construction.
"This mallet makes clear tones with a focused pitch." - David Herbert

DH6 "Large Rollers" (6F)
Soft German felt over a large felt core. This is the ultimate large roller mallet, with a dark sound that is smooth and legato. Great for powerful passages in Shostakovich and Wagner.
"This mallet has an enormous sound at all dynamic levels - for moments when full sonority is required at all dynamic levels." - David Herbert

DH7 "Rite of Spring" (L1WA)
Hard American felt over a large wood core. This is a rich and full sounding stick with a clean attack, perfect for driving the orchestra such as the majority of passages in Rite of Spring and the second movement of Beethoven Symphony #9.
"The construction of this mallet and combination of weight and materials delivers plenty of rhythmic drive and power."
- David Herbert

DH8 "Haydn" (MWL)
Soft chamois leather over a wood core. This is a hard stick with a clean attack for extremes in articulation, perfect for Baroque music, or the music of Bach, Haydn or Mozart. Works well as a substitute for wood sticks on plastic heads, and the chamois leather eliminates unwanted contact sound.
"The most articulate mallet available and a perfect substitute for wood mallets, especially on modern instruments. Conductors love these mallets." - David Herbert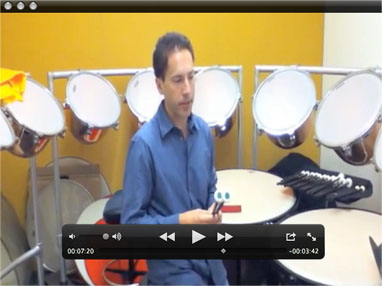 Click on the movie to view a QuickTime video of David Herbert demonstrating his line of timpani mallets.
For Factory-Direct Ordering Visit our Showroom or Contact us to Schedule an Appointment
Telephone: 440-877-9674
Fax: 440-877-9675
Email: kbdustman@aol.com