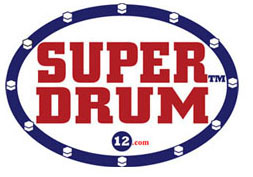 SUPERDRUM EXPANDS ORCHESTRAL
SNARE DRUM PRODUCT LINE
NEW MODELS FEATURING TRIPLE SNARE MECHANISM AND
TWELVE-LUG-TUNING MAKE THESE DRUMS TWO OF THE MOST
DESIRABLE DRUMS FOR CONCERT USE.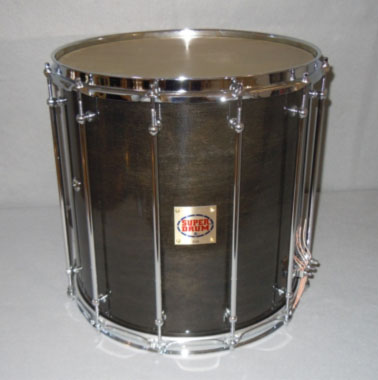 NEW 14x14" CONCERT FIELD DRUM provides a dynamic addition to every concert percussion section. Offering a solid resonant characteristic with the full range of dynamics and articulations are every volume. Triple snare mechanism provides wide range of sound colors and definitions.
Hand rubbed high-gloss ebony stain finish on a ten-ply North American Sugar Maple shell with standard 45 degree bearing-edge allows for maximum resonance, clarity and personal preference adjustment.


Superdrum Triple Snare Mechanism provides three fully adjustable six-strand distinctive snare material choices of coated cable for the vintage-authentic Field Drum sound, steel cable and standard coiled steel wire. Experimenting with the many different snare combinations in OFF and ON positions offers the widest selection and combination to perfectly match resonant sound characteristic to the performance requirements.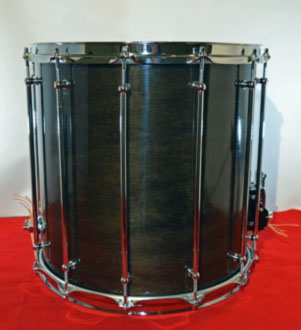 SUPERDRUM is synonymous with TWELVE LUG TUNING - offering the most consistent even and versatile tuning of all the orchestral snare drums on the market. This Concert Field Drum has the precision and power of the smaller Superdrum models without any limits on the volume, clarity and authentic Field Drum sound. Twelve beautiful chrome TUBE LUGS eliminates the need for heavy and expensive Die Cast Hoops.
Equipped with Remo Renaissance Ambassador batter head, and clear Diplomat Resonant bottom head.

SUPERDRUM 14x14" Concert Field Drum Introductory price, $895.00.
IN-STOCK and immediately available exclusively through Professional Percussion Products.
NEW SUPERDRUM 6X14" ALUMINUM SHELL
"VIRTUOSO" CONCERT SNARE DRUM, now available.
"The most discriminating concert snare on the market"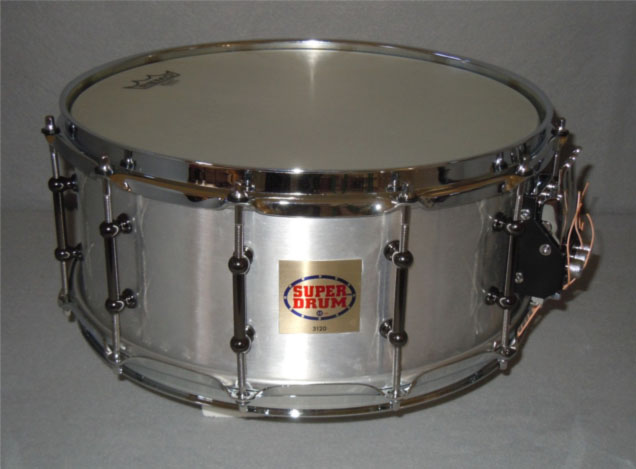 Your SUPERDRUM VIRTUOSO 6x14" aluminum shell Concert Snare Drum is the very heart of the orchestral percussion section. DEFINITION, CLARITY, RESPONSE AND CHARACTER, are just a few words that define this snare drum, bringing a true concert snare drum sound to the center of your sound and personal signature performance.

The SUPERDRUM ultra-smooth and silent triple snare mechanism provides three distinctive trouble-free individual snare units offering multiple combinations of sound character and definition. With fine-tuning adjustments on each separate snare unit, the player remains in-control of all sound dynamics and sensitivity range. Snare material choices of coated cable, steel cable and coiled steel wire are standard and remain the most sought-after sound and dynamic response.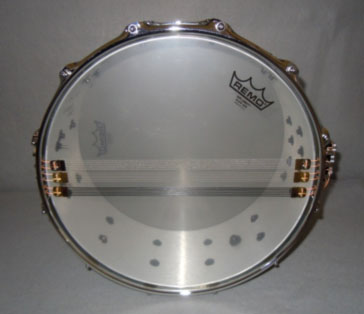 Cast Aluminum shell creates the full bodied tone with a higher overall pitch response. Twelve Superdrum high tension tubular lugs are always standard, eliminating the need for heavy and costly die-cast hoops.
Cast precision snare-beds provide maximum snare contact with the head employing wrap-around extended snare units.

EXPERIENCE THE SOUND!
https://www.youtube.com/watch?v=X8OhSjuKMTQ&feature=youtu.be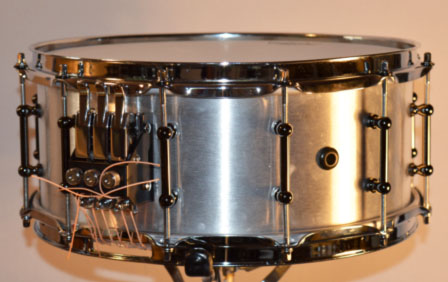 SUPERDRUM VIRTUOSO 6x14" ALUMINUM Concert Drum Introductory price, $755.00.
IN-STOCK and immediately available exclusively through Professional Percussion Products.

Professional Percussion Products is proud to announce and showcase the SUPERDRUM series of 12-Lug orchestral snare drums. Orchestral models featuring a player's shell-choice of 6-ply cross-laminated natural American Sugar Maple, One-piece cast Aluminum shell or One-piece Cast solid Brass shell. Maple model is also available in 9 or 10-ply shell configurations as a special order.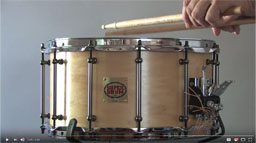 Check out a YouTube SUPERDRUM Demonstration!
Maple shell, standard triple snare mechanism
combination of 6-curly wire, 6 coated cable and 6 bare cable
Commentary and drumming by Superdrum Founder, Dave Bedrosian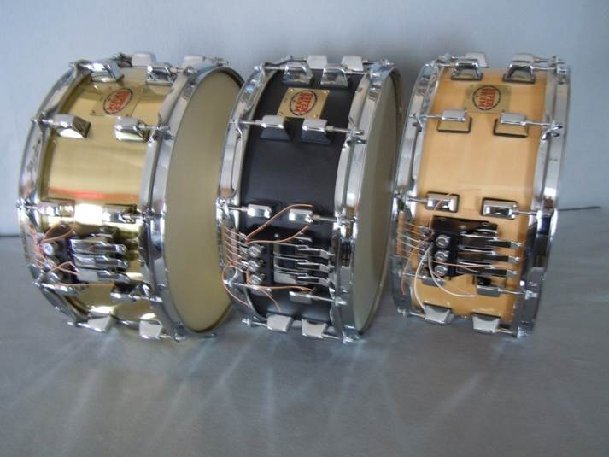 WHY 12 LUGS? Superdrum takes snare-drum-building tradition a step further by increasing the tension points and creating an unsurpassed accuracy and sensitivity with an extremely wide dynamic range. Clarity and definition of an orchestral snare sound which "speaks" in every concert hall setting, brings the snare voice to a new standard, and level of articulation.
Eliminate the need, cost and weight of die-cast hoops,.. the solution is in having twelve individual tension points that balances the head while securing the fine tuning adjustment at TWELVE tension points. Each lug has its own independent studded gasket, optimizing resonance of the shell and minimum lug-to-shell contact.
SUPERDRUM Orchestral Models all feature the Orchestral THREE separate snare mechanisms allowing the player complete versatility and selection from any combination of 6-curly wire, 6 coated cable and 6 bare cable snare units, as standard. The combination of sounds and immediate adjustment are endless.

Highly figured Natural Maple with high gloss lacquer finish feature precision bearing edge and snare bed, making this drum the "New Orchestral Standard" for orchestral wood-shell snare drums. Equipped with Remo Renaissance Diplomat batter and snare heads. Introductory Showroom price, $655.00

Solid one-piece Brass Shell, combines the clarity and articulation of a metal shell - with resonance beyond compare. A new definition of a controllable LOUD snare drum with individual snare choice flexibility. Introductory Showroom price, $655.00

Featuring a 5 mm thick aluminum shell, this drum weighs in at 13lbs. of shear orchestral energy and dynamic range. While the Audition Standard over the past five years has turned to aluminum shell drums. This 12-Lug SUPERDRUM replaces that definition with a sound and ease of tuning unlike any other drum on the market. Introductory Showroom price, $755.00

About SUPERDRUM - The concept of a twelve lug snare drum has been around for over three decades, but never available as a U.S. manufactured specialty drum with the design focus on sound and performance. Superdrum has developed a select following for drumset snare drums, offering a wide spectrum of sizes and shell materials and snare mechanisms. Now, Professional Percussion Products brings the orchestral snare drum models to the attention and demand of those orchestral professionals seeking a better snare drum at a more affordable price.
About Superdrum Founder, Dave "Bedrock" Bedrosian - Professional drummer, teacher, author and drum designer, Dave Bedrosian is an active recognized professional in Los Angeles maintaining and active performance and teaching schedule. Highly influenced by his prominent teachers like Alan Dawson and orchestral percussionists George Goneconto, Dave brings that performance passion to each of his students and is the foundation for the DRUM DISCIPLINE educational DVD series, published by Hal Leonard. A sought-after clinician, his appearances throughout Southern California are highly publicized and attended events in collaboration with his endorsement of Xcel Drum Sticks. Visit his website at www.americandrumschool.com.
Current Models and Introductory Prices, from the showroom -
SUPERDRUM
12 LUG ORCHESTRAL SNARE DRUMS
FEATURING: Three separate snare mechanisms allowing the player complete versatility and selection from any combination of 6-curly wire, 6 coated cable, and 6 bare cable snare units, as standard. Die Cast hoops available at extra charge.
6.5 x 14" Natural MAPLE, clear gloss finish: $655.00
6.5 x 14" Solid BRASS, clear coat sealant: $655.00
6 x 14" Solid ALUMINUM shell: $725.00
7.5 x 14" Natural MAPLE, matte finish, tubular lugs: $725.00
5.5 x 14" MAPLE shell, Mahogany Stain, tubular lugs: $650.00

NEW FOR 2018!
7.5 x 14" CARBON FIBER seamless shell, charcoal finish: $750.00
3 x 14" PICCOLO Chrome over Steel Shell: $300.00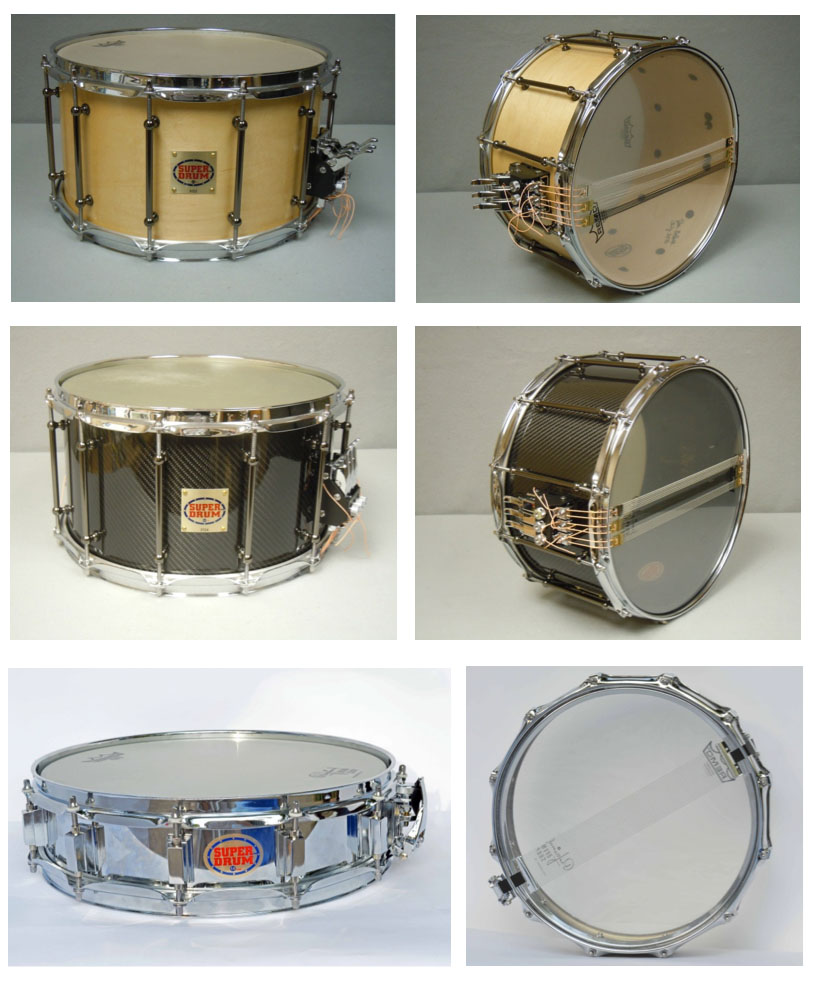 ALL SUPERDRUM DRUMS manufactured in USA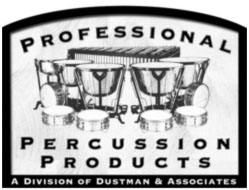 PROFESSIONAL PERCUSSION PRODUCTS
P.O. BOX 33252 CLEVELAND, OHIO 44133
TELE-FAX: 440-877-9674 E-Mail:
Website: www.professionalpercussionproducts.com