HHX EVOLUTION NEW SYMPHONIC
Available in traditional French (light), Viennese (medium) and Germanic (heavy) weights in 18" and 20" sizes. These cymbals feature Sabian's exclusive New Symponic design, with its large bell for easy playing. Combining the warm, dark, rich sound of Sabian Hand Hammered cymbals with the added "Tone Projection" of HHX's exclusive double-hammering process, HHX New Symphonic cymbals are ideal for school ensembles or professional orchestras who desire traditional sounds with the benefit of added projection. Available only in Natural finish.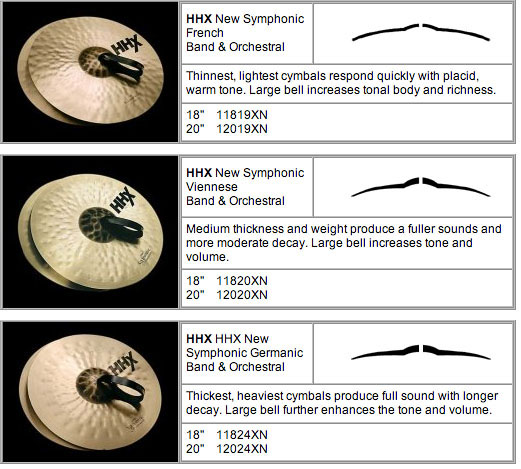 HHX EVOLUTION PHILHARMONIC
After years of extensive collaboration with Christopher Lamb, Principal Percussionist of the New York Philharmonic, Sabian is proud to introduce HHX Philharmonic cymbals. Available in 16" and 18", the HHX Philharmonic is a medium-weight cymbal designed to retain mid-range partials for a full-bodied sound with maximum responsiveness. Available only in Natural finish.

Orchestral
SABIAN cymbals are used by the world's leading bands and orchestras. From the traditional sound of our Hand Hammered series, through the wide range of gongs and accessories: Everything bearing our distinctive ringed marque is of the finest quality. Select the best SABIAN sounds for your musical needs:

FRENCH - Light and thin cymbals that speak quickly and have little sustain.

VIENNESE - Cymbals of medium weight and thickness. They produce a full sound, moderate response and sustain.

GERMANIC - Slightly thicker and heavier than Viennese, Germanic produces a full sound with strong articulation and long sustain.

NEW SYMPHONIC - A large bell provides more overtones. Medium Heavy models provide full sounds and long sustain. Medium Light models produce a quick response and less sustain.

MOLTO SYMPHONIC - Paired models from our two different bronze alloys result in a rich, full bodied sound complimented by a wide spectrum of harmonic overtones. Medium Heavy models provide full sounds and longer decay. Medium Light models produce a quicker response and more rapid decay.

PHILHARMONIC - Cymbals with pronounced mid-rage partials. Developed in collaboration with Christopher Lamb to meet challenging performance requirements.

SUSPENDED - Cymbals that produce quick response and a smooth and even sustain when rolling.

SYNERGY - These cymbals have a glassy high end with extreme volume, but retain the mids and throaty low-end. Their innovative 'Touch Response' design makes it virtually impossible to misplay them.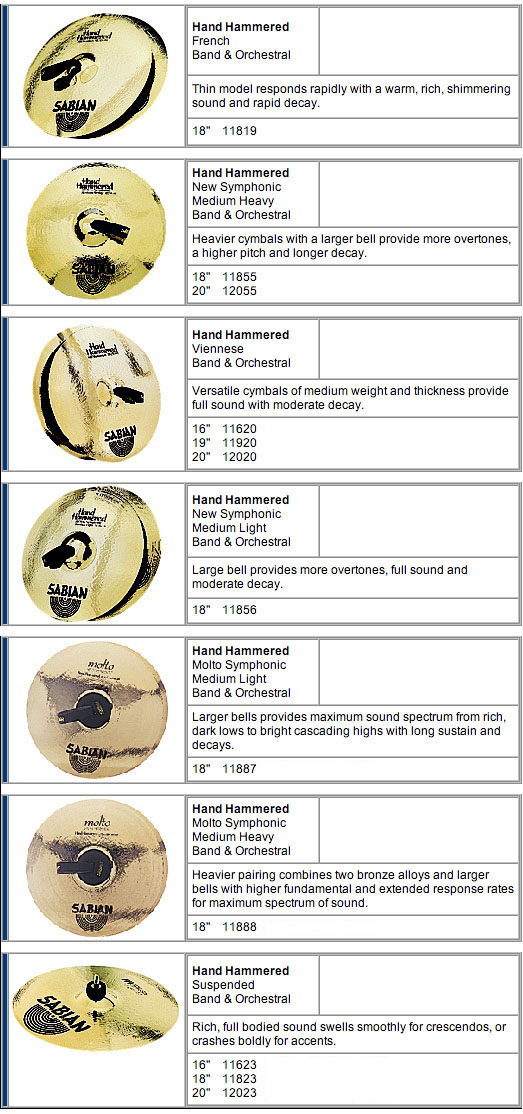 Orchestral Accessories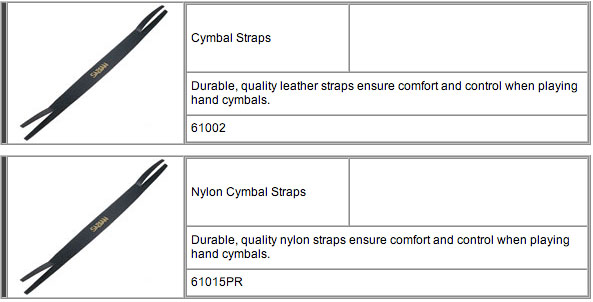 Triangles
SABIAN B8 bronze triangles offer a pallet of sounds ideal for most band and orchestral repertoire.

Orchestral Triangles
A bright and direct fundamental response.
61134-4B8 4"
61134-6B8 6"
61134-8B8 8"
61134-10B8 10"

Symphonic Hand Hammered Triangles
Individually hammered for complex tones.
61135-4B8H 4"
61135-6B8H 6"
61135-8B8H 8"
61135-10B8H 10"