One Marimba . . . Marimba One
Professional Percussion Products has a constantly changing inventory of instruments, mallets and accessories based upon our customer demands and preferences. We are knowledgeable about all Marimba One instrument models, features and player differences in guiding you to select the perfect instrument of your choice ideally matched to your needs, budget and intended use of the instrument. We have been successfully doing this for all our Marimba One customers since 2003.
We work with many individuals, schools, percussion instructors and professional orchestras in designing a custom instrument that can be picked-up at our by appointment showroom. We carefully receive each instrument, unpack, inspect, test-play and prepare each instrument arriving at our instrument gallery. Your instrument is assembled in advance and waiting for your first instrument introduction. Upon your inspection, we provide hands-on assistance in correctly dis-assembling and packing the instrument in Marimba One Cases,...and your vehicle. Should a trip to our showroom not be feasible, we carefully ship your complete instrument to anywhere within the Continental United States.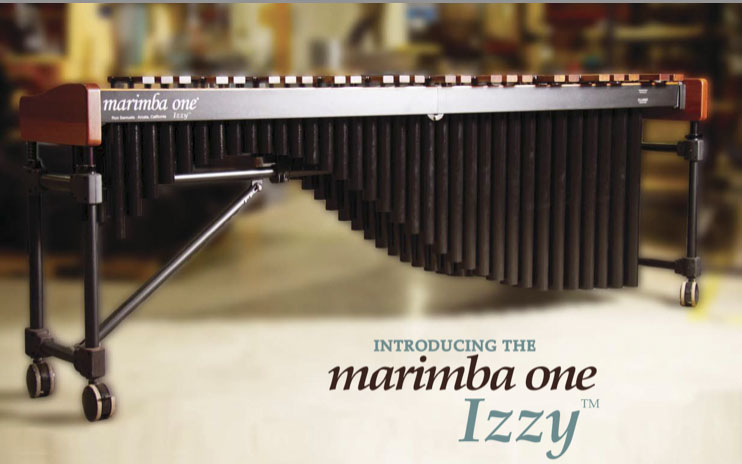 SOUND INNOVATION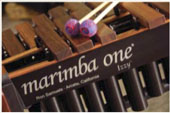 This is the synthesis of 30 years of voicing experience in our marimbas introduced altogether in the marimba one Izzy™: resonator harmonic filters for a smoother, more balanced sound, updated resonator tuning to maximize sound potential, and voicing options on both our resonators and keyboards - hand tuned in California from Rosewood cut at our new mill in Central America.



HIGHLY ENGINEERED FRAME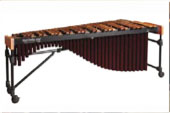 The complete re-design of the end frames and rails on the marimba one Izzy™ includes refinements never before seen on marimbas. From the combination aluminum and wood rails with laser engraving to the incredibly durable frame hardware - The marimba one Izzy™ is in a class all its own.

EASY HEIGHT ADJUSTMENT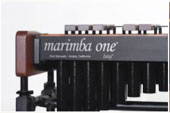 Our ultra-smooth pneumatic height adjustment system is functional and durable - never slips, easy to use. Built-in tape measures insure your preferred keyboard height. We only use US-grade certified hardware on our marimbas which are 100% made at Marimba One in Arcata, California, USA.



What's New with the marimba one Izzy™ in terms of acoustics?
The new marimba one Izzy™ represents the culmination of decades of continuous acoustic research and development. The goal has been to further refine the pioneering voicing strategies of both the keyboards and resonators. The result is a marimba that is the most even and balanced ever made.
The marimba one Izzy™ includes harmonic filters on the Classic resonator voicing or the patented Basso Bravo resonator voicing. This is now the case for all Marimba One instruments.
Oftentimes, when people think of marimbas they think of the keyboards. But resonator voicing and design are also critical to a great marimba. If they are not correctly engineered there will be systemic problems in the sound of the marimba that can never be resolved through the bars. The marimba one Izzy reflects the refinement given to both the keyboards and the resonators.
What's the intent behind the marimba one Izzy™ design?
This marimba is the synthesis of over 30 years of Marimba One's acoustic research into both bars and resonators, frame engineering, and tuning and voicing strategies. The idea is to bring together everything learned about building marimbas up to this moment in time and design them in the marimba one Izzy.
The marimba one Izzy™ is a new approach to how a marimba should function, look, and feel. This has achieved a new level of refinement and durability with the frame. It is completely re-engineered to give the musician the easiest marimba to transport, assemble and disassemble, and a keyboard layout that is completely natural to play.
Why replace the 4000 series frame with marimba one Izzy™? Why not produce both?
What's most important to our costumers is sound. They want a specific, very musical sound to the marimba, and it has to be functional in terms of moving and transportation, raising and lowering. The new marimba one Izzy™ has the easiest to operate height adjustment frame anywhere. It also premiers an innovative rail system that is a unique and contemporary combination of wood and black aluminum.
Compare The Models
At marimba one®, we pursue our ideal musical sound for the marimba: focused, responsive, resonant and balanced. Our three marimba one keyboard options are crafted, voiced and tuned in California from Honduras Rosewood that we personally select and mill in Central America. Both our resonator options are certified US-grade aluminum and show the trademark marimba one® S-curve. And when you own a marimba one®, you'll enjoy our 2-year full warranty.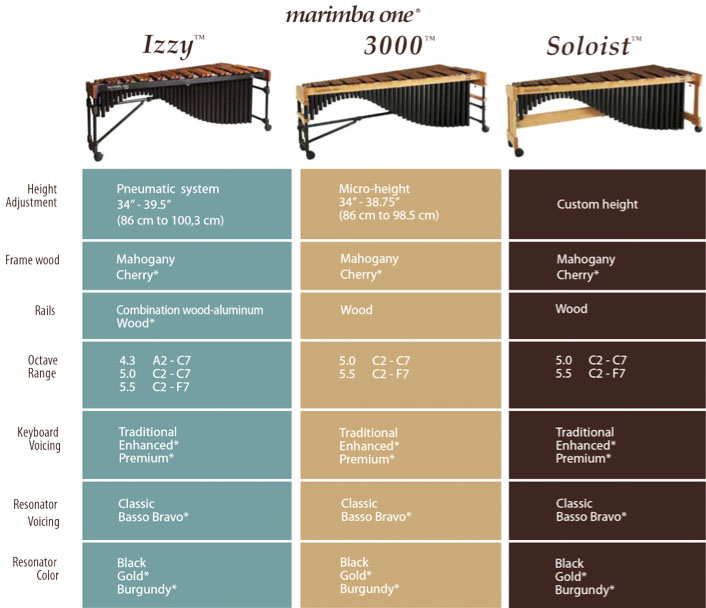 Specs
Bar Sizes: 2 7/8" to 1 5/8" wide (7.3 cm to 4.1 cm) 1" to 7/8" thick (2.5 cm to 2.2 cm)
Dimensions: 41.5" D to 100.5" L (86.3 cm to 255.3 cm)
Weight: Approx. 260 lbs (117.9 kg)
Wheels: 4" diameter (two locking, two free)

*upgrade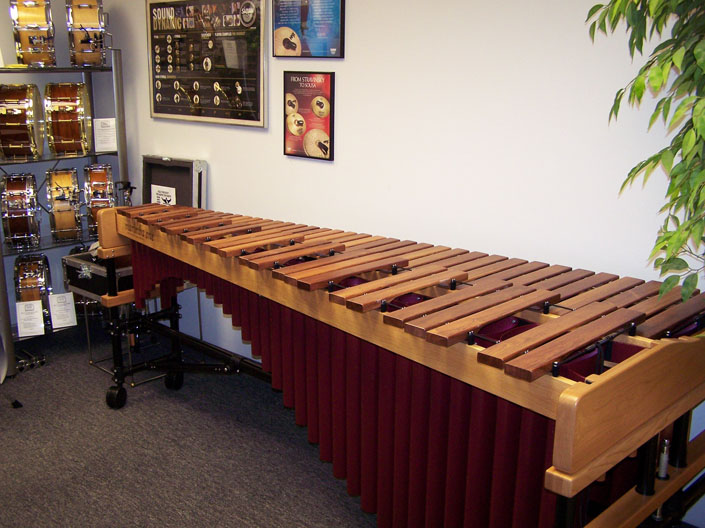 Brand new Marimba One waiting introduction to its new owner.

One Marimba ... comes with a standard warranty that includes one year of free bar exchanges and one free retuning within 2 years.
One Marimba ... offers custom bar voicing.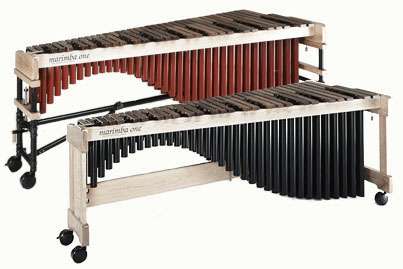 Marimba One
Marimbas
Each Marimba One instrument is custom crafted to your order by the Marimba One factory.

They shape and assemble every bar, resonator, keyboard and frame carefully by hand, and the instruments are backed with the best warranty found and outstanding customer service.

Marimba One Frames

Marimba One offers a soloist wood frame, created to your height choice, and an adjustable height metal frame suitable for multiple musicians. Both frame styles are available in cherry and mahogany woods.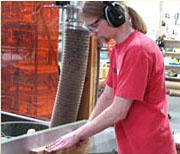 Woods
The soloist and adjustable height frames are available in either cherry or rich mahogany woods.
Range
Keyboard ranges include a 5-1/2 Octave (C2 to F7), 5 Octave, 4-1/2 Octave (low E), 4-1/3 Octave (low A), and a 3 Octave Bass.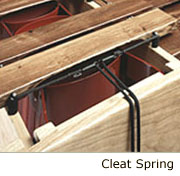 Innovative Design
Innovative design is evident in every Marimba One instrument. The unique cleat spring allows for easy adjustment of the cord tension without adjusting the knot in the cord. (Slack is eliminated by wrapping extra loops of cord around the cleat built into the spring.)
Sway bars brace the rails and stabilize the keyboard, while allowing vertical adjustment of the resonators for tuning. All of our sway bar pieces are felted to prevent buzzing.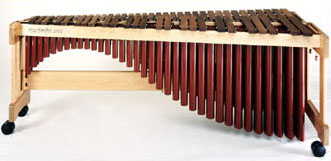 Soloist Frames
Marimba One tests each wood piece of their soloist frames for perfect integration. The center wooden support rail fits neatly into the end bars, attractively stabilizing the length of the marimba. Keyhole locks and the spring-loaded center bar help make for a smooth assembly.

Adjustable Height Frames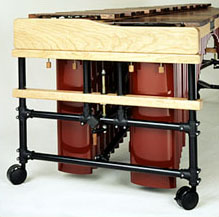 The adjustable frames have just over 4 inches of height adjustment: the height of the natural keys can range from 34" to 38 1/4" from the floor. This frame's easy assembly and flexibility are ideal for school and university use... or anyone who is intrigued by its contemporary design, facile transport, and extreme stability.
The marimba is raised and lowered by the use of a silent easy-to-use system on both frame ends. A tape measurer is built-in to each end-frame for precise, level playing height adjustment.
Bars and Keyboard
Keyboard ranges include a 5-1/2 Octave (C2 to F7), 5 Octave, 4-1/2 Octave (low E) and a 4-1/3 Octave (low A). The traditional Marimba One keyboard has a bright and cutting upper end, an even, balanced middle section, and a strong, dark bass end. Each instrument can be voiced to your specifications!
The Voices of Marimba One
Keyboard voicing is probably the most significant aspect of building a marimba. To develop our traditionally voiced keyboard, Marimba One spent many hours with professional marimba players, learning exactly what they were seeking in the sound of a high quality marimba.

The solo, or traditionally voiced keyboard, has a bright and cutting upper end, an even and balanced middle section, and a dark strong bass end. Customizations might include an extra bright upper end, or perhaps a very dark sounding bass end.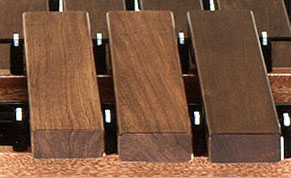 Available also is voicing for an orchestral or ensemble setting, selecting bars that are more powerful, and which will easily cut through the sound of the other instruments without having to over-play the marimba.
With a customer's specific voicing request in hand, the factory selects from an inventory of over 30 sets of 5-octave bars. Even though all middle C's are tuned the same, each bar will have qualitative differences that speak of their own sound. Marimba One balances all of the bars on the marimba so they interact in a unified, cohesive, and very musical fashion. Only Marimba One's voicing strategy is the best way to make the marimba your own personal instrument.
Resonators
Resonators are built from a heavy gauge yet lightweight aluminum, colored in either black, burgundy, or gold. Resonators are pre-tuned to either A440, A442, or A443, to precisely match the frequency of the bars.
13 different diameters of tubing are used on the 5-octave marimbas to enhance the evenness and balance of the keyboard.

NEW from Marimba One
Marimba One 4000 Series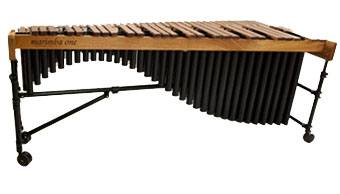 This spring, Marimba One presents a new height adjustable concert marimba - the 4000 Series.
Featuring a Quick Cam Spring Assist, the 4000 makes it an easy lift and snap to adjust to any performer's height.
The base model 4000 marimba comes with the traditional Marimba One keyboard: a bright and clear upper end, an even balanced middle section, and a deep, strong bass. Our Enhanced Traditional Keyboard is also available as an upgrade option.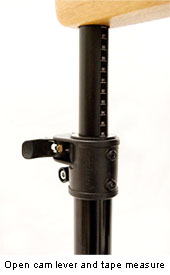 The new Quick Cam Spring Assist
Both headboards of the 4000 marimba are spring loaded for ease in raising and lowering, and the four posts are held in place by a cam lever. To raise the marimba height, you simply release the cam levers, smoothly lift the spring-loaded headboard to the chosen height, and then close the cam levers. To lower, again release the cam levers, push the headboard down, and reclose the levers. Each post has an integrated tape measure to ensure uniform height across the marimba.
FRAME
The headboards themselves contain Marimba One's elegant pocketing that solidly supports the resonators and bars. 4000 series resonators are felted at the points where they nest into the pockets, to eliminate buzzing.

The 4000 series base model marimba comes with a mahogany frame; cherry wood is available as an upgrade option.
RESONATORS
The base model 4000 resonators are black, with burgundy and gold available as an upgrade option.

All Marimba One resonator screws are made of stainless steel and utilize locking nuts. Locking nuts are essential to prevent the loose screws and bolts or rivets that can result in vibrating and buzzing.
KEYBOARD
The base model Marimba One 4000 series features our traditional keyboard with a bright and clear upper end, an even balanced middle section, and a deep, strong bass. This keyboard's defining sound represents 80% of all Marimba One instruments made. Our Enhanced Traditional Keyboard is also available as an upgrade option.

4000 series marimbas are available in all three tuning frequencies: A440, A442 and A443.
Cases - Professional Percussion Products Stocks Marimba One Cases for All Five Octave Instruments.
These durable and road worthy cases are made with Cordura on the outside and either ripstop nylon or Cordura on the inside. For padding, both 1/2" and 1/4" dense foam is used as shock absorption material. All of the cases have leather handles.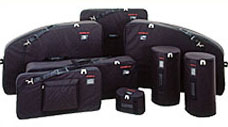 The three largest cases (for the resonators and rail/center support pieces) are designed for one person to carry, with shoulder strap and a handle on the side; or two people to carry, with handles on each extreme end.
Case sets accommodate both the soloist and adjustable frame instruments. A standard Marimba Case set includes eight matching cases. Professional Percussion Products STOCKS these case sets.

Interested in a Marimba One instrument? Email us your name, address, and telephone number to receive a free full color detailed brochure on Marimba One Instruments. Be sure to ask about un-secured student financing available for Marimba One instrument purchases.
Convention, Festival, Summer Workshop Event Specials
Professional Percussion Products includes a variety of five octave marimbas of different brands and specifications in its participation and exhibition activities and promotions at various percussion events throughout the year. Very often these instruments can be sold at significant savings immediately following the instrument's use at a specific event.

Contact us if you are interested in purchasing a demonstrator instrument that may become available.



The Marimba One Guarantee - by Ron Samuels,
... Marimba One Founder and President
As the owner of Marimba one, I personally guarantee that our marimbas, and our marimba service center, will meet or exceed your expectations from the moment you first set up your instrument to years down the road when you may require marimba servicing. To make great instruments, I believe it is essential to develop a close working relationship with all of our clients. In this way, we work together with Professional Percussion Products to design your ideal marimba and, after the sale, continue working with you to make sure that you are completely happy with your marimba. We will give you free of charge, for one year, any replacement bars you should request. We will retune your keyboard within 2 years of your purchase free of charge. And we guarantee the frame and resonators "bumper to bumper" for a full year.




For Factory-Direct Ordering Visit our Showroom or Contact us to Schedule an Appointment

Telephone: 440-877-9674
Fax: 440-877-9675
Email: kbdustman@aol.com