Grover Pro Percussion was founded on the belief that in order to sound your best you must utilize the best equipment available. All of our products are the direct result of extensive research and development and produce a varied array of spectral colors, enabling you to sound your best.
Over the past 20 years Grover percussion products have gained worldwide recognition as "state-of-the-art" in design and manufacture. Our clients include numerous world class symphony orchestras and prominent percussionists.

The Grover Pro Tunable Tambourine is perfect for players who prefer a natural skin head the ability to maintain a consistent head tension regardless of the temperature and humidity. The titanium tuning pins grant players a tuning range not previously possible with professional-level tambourines. The patent-pending design produces no extra bulk and negligible extra weight,..... because the tuning mechanism is completely internal.
In addition to being tunable, the Grover Pro Tunable Tambourine is customizable: The 18 jingles of the top row are interchangeable, allowing for an unbelievable number of different combinations to customize your sound. Jingle Packs sold separately.
NOTE: Do not over-tension the head. Always lower the tension of the head after playing to ensure the head is not damaged if the weather changes!

Projection-Plus Tambourines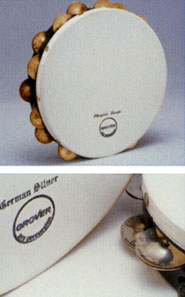 Hand-crafted since 1979!
Grover Pro Percussion combines modern technology with "old world" craftsmanship to produce the finest concert tambourines available. Our Projection-Plus Tambourine provides you with the dynamic response, articulation, and tonal colors needed to sound your absolute best. Each tambourine features a premium, "natural skin" head which is glued and tacked to a solid, steam-bent, hardwood shell.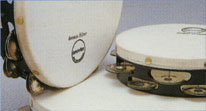 Our unique, "hand-hammered" jingles are made from three special alloys: German Silver, Beryllium Cooper and Phosphor Bronze. These resonant alloys have been tested and developed by Grover Pro Percussion to produce only the richest, most sonorous sound. Unlike other tambourines, our jingles are mounted in a staggered, "double row" arrangement that makes smooth rolls effortless.

Innovative, dual-sized jingle slots (two different size jingle slots cut into each shell) produce "out-of-phase" jingle motion, facilitating smooth, consistent rolls. Finally, our 100% captive jingle pins guarantee that the jingles will never loosen from the shell.
All Models In Stock!
Jingle Type	   Diameter	Description					Model
German Silver	      8"	Creates bright sonority with a light texture	T2/GS-8

German Silver	     10"	Produces a bright, articulate sonority		T2/GS

German Silver	     12"	Great for extended thumb rolls			T1/GS-12

Beryllium Copper     10"	Responds with a full, rich timbre		T2/BC

Phosphor Bronze	     10"	Resounds with a round, dark texture		T2/PhBr

Silver/Bronze Combo  10"	Features articulate, full bodied sound		T2/GsPh

For single row configuration, subtitute T1 for T2 in the model number.


Projection-Plus Snare Drums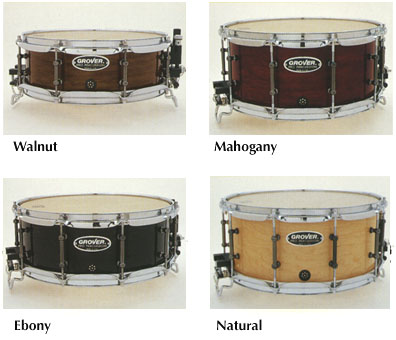 All Projection-Plus snare drums feature the Grover Piston Strainer, precision DNC bearing edges, extended "non-spiral" snare wires, nickel-plated "low mass" tube lugs, nodal venting, and a Grover snare outrigger system with five-point micro-fine snare adjustment.
Snare Drum Models
GS-4ET (CST) / GSM-4ET (Maple)
4.75" x 13" Piccolo
Possesses bright, clear projection and ultimate sensitivity. Perfect for chamber situations and light orchestral playing. Articulate and responsive from FF down to pppp. (Makes soft playing effortless)

GS-5ET (CST) / GSM-5ET (Maple) 5.5" x 14"
Perfect for orchestral players who prefer a bright, quick speaking drum. Responsive and rich sounding throughout the dynamic spectrum. An excellent "general purpose" snare drum.

GS-6ET (CST) / GSM-6ET (Maple) 6.5" x 14"
The flagship of the Grover line! Produces a rich, powerful sound and gives maximum projection for those climatic moments, while remaining ultra-sensitive for the most delicate passages. This world class drum will cut through a 100 piece ensemble or speak with a whisper.

Maple or CST Shells
Our Maple Series features 10-ply shells, constructed from cross-grained New England Maple. We hand-pick only the finest Maple shells, offering a traditional warm tone and superior resonance. Our CST Series utilizes state-of-the-art composite shell technology. The result is a virtually indestructible, thin drum shell with a distinctive bright tone and ultra-sensitive response.

Precision DNC Bearing Edges
Utilizing automated DNC technology, Grover machines all bearing edges and snare beds to extremely close tolerances, resulting in optimal drumhead vibration and drum shell response. DNC technology measures the density and depth of each drum shell and machines a custom bearing edge and snare bed accordingly. This custom process results in precise drumhead seating, easy tuning and a consistent attack and decay across a wide dynamic range. A final "hand-sanding" process assures a silky smooth finish.

The Finish
Our CST drums feature a traditional black-gloss finish while our Maple drums feature and elegant, 10 coat, hand rubbed, lacquer finish. Available in Rich Walnut, Natural Maple, Deep Mahogany or Charcoal Ebony.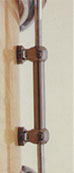 The Hardware
The close tolerance of DNC technology assures perfect placement of all mounting holes. All hardware fits tightly with no air leakage. Our nodal venting system places a unique Air Dispersion Vent (ADV) at the shell's minimal vibration point. This allows for a faster transient attack while the multiple ports precisely focus and contain air dispersion to maximize the drum's decay.
Our nickel-plated tube lugs reduce mass loading on the shell circumference, enhancing the shell resonance and sensitivity. Minimal "shell-to-lug" contact allows the drum to vibrate freely while our 2.3 mm super hoops provide dependable, consistent tensioning without choking or altering the quality of the drum's sound.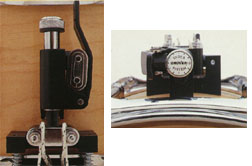 Piston Strainer
One of the greatest features of the Projection-Plus snare drum is the Piston Strainer and Snare Outrigger System. A 5-point adjustment system lets you tension the snares both laterally and vertically. We adjust each drum to factory specs, which insures maximum articulation and the ultimate in snare sensitivity. The Piston Strainer is the quietest, smoothest, strainer ever made! Our GIS Indexing System allows you to note your strainer settings for consistency, or in case you need to change settings during a performance.
W-13X     13" Cable	   W-15X      15" Cable
W-14X     14" Cable	   W-E14X     Extended 14" Cable
Triangles
Bronze Pro Hammered™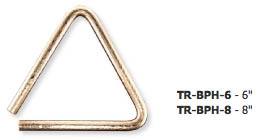 Our Bronze Pro™ Hammered Triangles represent the collective experience of over 30 years of hand-crafting the world's finest triangles! BPH triangles are manufactured from a unique 1/2" diameter high-grade bronze alloy. Prior to bending, the solid alloy rod is meticulously hammered in a randomized pattern. This ensures that the inherent fundamental pitch is damped, and that the instrument's intricate and complex harmonic structure is enhanced. After fabrication, each and every triangle is hand tested and precision engraved with the Grover logo and a unique serial number.Available in both 6" and 8" sizes, the BPH Triangle is ideal for professionals and percussionists who demand an instrument capable of full expression and ultimate musicality.
Bronze Pro™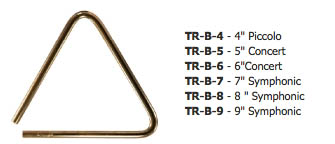 Grover Pro Bronze triangles were developed to fill a need for lighter sounding triangles that retain a predominance of overtone resonance. Manufactured using a special cymbal alloy, these "golden" bronze triangles are unique in appearance and are very resonant. Perfect for lighter applications and small ensembles.
Super-Overtone™ Triangles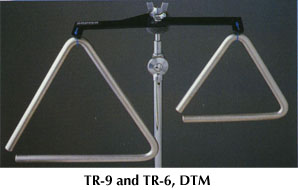 Our Super-Overtone Triangles are the culmination of years of extensive research and experimentation. Each triangle is formed from a specially treated carbon steel alloy. The resulting wide spectrum of overtones, coupled with an extraordinary large dynamic range, provide this triangle with its characteristic sound. Unlike most triangles, the overtone resonance of this instrument will remain consistent throughout the expanded dynamic range. Our Kanigen plating is durable and allows the highest harmonics to respond, unlike traditional chrome plating.

TR-6 Our 6 inch triangle features a higher fundamental tone while retaining predominant overtones. This model produces a lighter sound than its larger companion.

TR-9 Our 9 inch triangle has a large internal working area which facilitates execution of the most difficult passages. the TR-9 has a full, rich sound.
Alloy 303 Triangle Beaters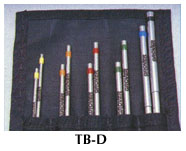 After years of research and testing, we've developed a "traditional style" triangle beater that produces a rich, full sonority with minimal contact sound. Alloy 303 triangle beaters are extra long (8.9") and are available in six sizes and weights. Each comes with a "color coded" plastic-coated handle for positive gripping and quick identification.

TB-S Standard Set (1 of each model)
TB-D Deluxe Set (w of models 1, 2, 3, and 4 and 1 of models 5 and 6, with a cordura case)
Tubular Triangle Beaters
These "contemporary style" beaters feature a tubular beater face (Alloy 303), isolated from a core shaft using a special rubber compound. Each beater comes with a comfortable, black latex handle (identical in diameter and coupled to the beater face). The increased weight of the beater face will produce the greatest array of spectral overtones from any triangle.

TB-TS Standard Set (1 of each model)
TB-TD Deluxe Set (2 of models 10 and 11 and 1 of models 12 and 14 with a cordura case)
Triangle Accessories
Dual Triangle Mount

The Grover Dual Triangle Mount allows you to mount your triangles from any standard cymbal stand (not included). The versatile side arm extension enables you to mount any triangle (from 4" to 10") in a vertical or horizontal configuration. The vertical configuration allows you to mount two triangles at once. Our exclusive "nodal" suspension system allows maximum resonance from your triangles. The DTM is perfect for orchestras, pit percussionists, drum set players, or multi-percussion set-ups.
Triangle Clip

Our Pro Triangle Clip is manufactured from New England hardwood for its strength and light weight. The easy action spring allows the player to open the clip with one hand (unlike bulky steel clips), so the triangle may be removed and clipped to a stand using only the holding hand. Our exclusive "nodal" suspension system allows maximum resonance from your triangle. In addition, we have a secured line to act as a "safety" line.
Bass Drum Mallets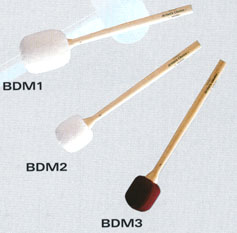 Our brand new Artist's Choice Bamboo Bass Drum Mallets feature the same high quality, hand-lathed, bamboo handles as our Bamboo Timpani Mallets. Unlike other bass drum handles, our lighter bamboo shafts provide greater leverage for the player, resulting in a more focused sonority and enhanced "bottom end". Meticulously sewn German felts, combined with the highest quality bamboo shafts, are sure to make this new bass drum mallet the professional's choice!

Our traditional Maple Bass Drum Mallets feature an elliptical "weighted" head, sewn with the finest German felt. An extra long New England Maple shaft provides a solid feel with exceptional balance. These mallets are durable and produce a round, focused bass drum sonority.

Bass Drum Mallet Models
(B indicates bamboo shafts):
BDM-1 / BDM-1B  General				BDM-2 / BDM-2B  Staccato
This "general purpose" mallet produces		A degree harder than the General, this
the fullest, most natural sonority from 	mallet produces a full, yet clear, 
bass drums.					articulate sonority.



BDM-3 / BDM-3B  Ultra-Staccato

Produces a very articulate sound on bass drums.
For Factory-Direct Ordering Visit our Showroom or Contact us to Schedule an Appointment
Telephone: 440-877-9674
Fax: 440-877-9675
Email: kbdustman@aol.com