Welcome to
Professional Percussion Products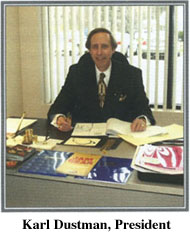 We have created a completely new way of selecting and purchasing the finest Orchestral Percussion Products available to serious percussionists around the world. All our instruments and accessories are on display for purchase and testing evaluation in a setting that combines the acoustics of the concert stage with the comforts of the private living room. We have assembled some of the most prestigious products and brand names in the percussion musical instrument arena. The unique showroom/sound room atmosphere provides a setting where serious orchestral percussion players, marimba artists, professors and students can test, play, hear and compare high-end top quality percussion instruments. Sound and quality ... is everything.

This is NOT a Retail Store, but a by-appointment private experience in making a selection of a personal instrument that you are comfortable with before owning it.

Please visit us, and experience this professional opportunity to make your all-important instrument selection.
At last, an environment to select from the finest brands . .
NEW ENLARGED ORCHESTRAL PERCUSSION SHOWROOM
Located in Cleveland, Ohio
We are pleased to announce the completion of our move into a new expanded facility after nine years of building and growing the business. This relocation represents the culmination of our efforts to bring all facets of our multiple businesses together in one all-inclusive building in a professional business park setting. With over 2600 square feet of office, conference, showroom, soundroom and warehouse space, we are able to accommodate everything our businesses will need for today's business climate and the future. This new location now serves as the home for Professional Percussion Products, Dustman & Associates Marketing Communications and the Percussion Marketing Council headquarters.
Please consider this YOUR personal invitation to visit our new expanded location and offerings.

Located right around the corner from the previous location, we are now situated in a professional business park, offering quiet surroundings, ample parking and convenient interior layout for instruments, client meetings, hosting school groups and a new separate sound room.

We have created the perfect environment for guests to be comfortable, relax and enjoy the experience of a by-appointment percussion gallery, exclusively available for their individual use. Appointments can be schedule to your convenience, including evenings, weekends and even holidays. Our brand new five octave Malletech Imperial Grand Marimba greets you at the front door, announcing the arrival of Malletech marimbas, glockenspiels, xylophones, mallets, select music and CD's - - will now be stocked in the showroom.

Appointment guests are overwhelmed with the instant array of instruments, accessories, mallets and educational printed materials. Complete model displays of all Marimba One, Innovative Percussion, Equilibrium, Mike Balter, Encore: Zeltsman and Mimura Marimba Mallets - - allows the visitor to test, play, compare and select from over 100 different pairs of marimba, xylophone, glockenspiel and vibraphone mallets. The new display of the complete Malletech mallet line completes the spectrum of keyboard mallets available.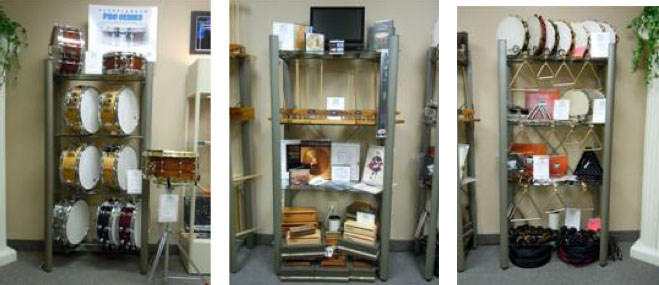 Test-play and choose from the orchestral snare drum selection featuring select Grover Pro Percussion snare drums and Ludwig Exotic snare drums. A complete assortment of Grover Pro Tambourines and Triangles are surrounded by Sabian and Treeworks Triangles, complimented by a huge assortment of triangle beaters, clips and accessories. All Epstein Castanet models, Castanet Machines and Claves are showcased.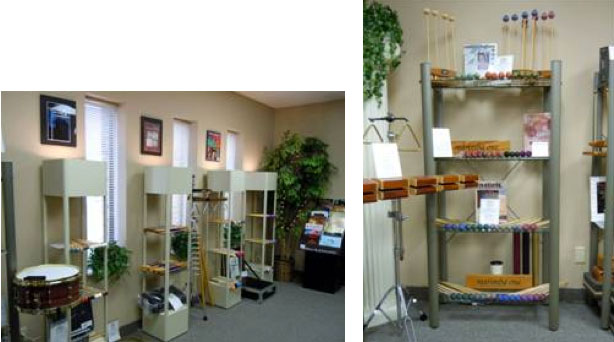 Individual illuminated product display towers and back-lit glass shelving makes everything accessible to the showroom visitor. Cooperman Drums Sticks in every orchestral model located next to an arsenal of snare drums, makes for the perfect test-playing and selection. Mallets are grouped by brand, artist, birch or rattan handles, making it easy to find everything for a hands-on testing.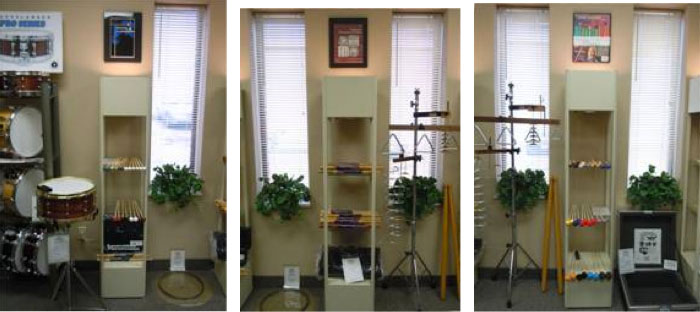 Accessories like Super Kalfo Irish imported calf snare drum heads, custom-sized steel flesh hoops, King Kong Snare Drum Flightcases and every Treeworks windchime model, is on display.
From the traditional to the exotic, we cater to the serious percussionist seeking the finest orchestral percussion instruments and accessories, assembled and displayed in an environment totally opposite from a music store or drumshop. Guests refer to their first visit experience here as "a P.A.S. convention - - for ONE".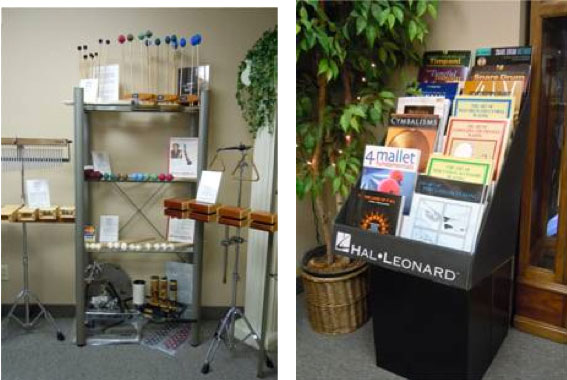 Epstein Crash Cymbal-Belt and Caddy conveys our servicing the professional percussionist as well as the community bands-orchestras where limitations on players, budgets and performance space all seek solutions. Popular education instruction method books and materials are displayed for review. Featured authors include, John Tafoya, Randy Max, Frank Epstein, Neil Grover, Garwood Whaley, Tony Cirone and Leigh Howard Stevens and Jack Bell.

Conference and Meeting facilities provide the ideal environment for our marketing company clients, but also for hosting showroom guests, school percussion groups and educational workshops. Full scale proposal and print production allows us to complete many projects in-house.

WELCOME TO OUR NEW SOUNDROOM. Our impressive assortment of over 100 different models of timpani featured timpani sticks, makes testing and selection a true pleasure. Select your timpani sticks from the complete assortment of Manfred Kaufmann-Austrian, Dave Herbert, Joe Pereira, J.G. Percussion, Ohio Timpani, Clevelander Timpani mallets.
From Timpani tuning forks, educational videos, to timpani stick building components and imported timpani-felt sheets, everything you need can be found on display in our soundroom. And don't forget the complete assortment of Concert Bass Drum Beaters awaiting your test and selection.
Plans are already in place for a timpani head selection display for REMO and EVANS heads, along with samples of our custom Super Kalfo Irish Calf Timpani Heads and custom flesh hoops. This Soundroom will also display the forthcoming KLASSISCHEWIENERPAUKEN authentic Baroque style timpani manufactured by Minnesota Orchestra Principal Timpanist, Peter Kogan.
FURTHER EXPANSION NOW INCLUDES: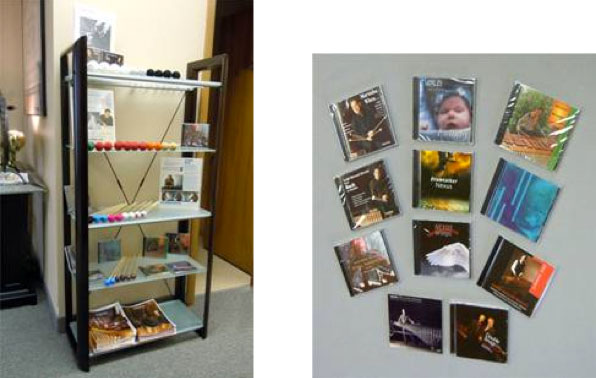 A specific collection of Malletech Mallets has been selected by Leigh Howard Stevens to include the most in demand models of Marimba, Xylophone and Vibe Mallets. Complemented by an assortment of CD's by the many Malletech artists.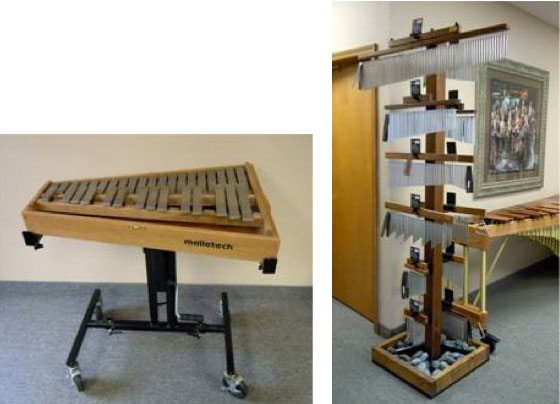 The Malletech 2.6 octave Professional Glockenspiel provides for a superior tone in an instrument that is affordable, portable and is complement by the "glare-free" Nickel Plated keyboard. Resonance in the all-wood resonator case is unbelievable!
Treeworks provided us a complete new display tree that provides for the complete assortment of every windchime they manufacture. Be sure to check-out the brand new Table Top windchime, perfect for trap table placement and performance with other accessories.
CALL US at 440-877-9674 to schedule your personal appointment to visit this orchestral percussion showroom and gallery.