NOW AVAILABLE & IN-STOCK
REBEATS PUBLISHING announces the immediate availability of their newest book:
MY LIFE IN PERCUSSION, Five Decades in the Music Products Instructy
Authored by Industry Veteran, Karl Dustman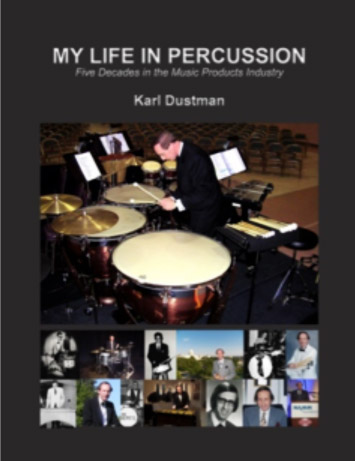 MY LIFE IN PERCUSSION
Five Decades In The Music Products Industry
By Karl Dustman
336 pages 8.5x11 paperback $35.00, hard-cover $45.00 This memoir by Karl Dustman details his illustrious music industry career. Dustman began his professional career in music retail, leading to a sales forecaster for IBM. This opened the door to an executive position with Ludwig Drum Company where he spent 11 years in the marketing and educational departments. Executive-level stints with Gretsch, Hohner-Sonor-Sabian, Pearl, and Sonor gave Karl great insight into the percussion industry of the 1970's through the 80's, 90's and into the current era, which he shares here in intimate detail.

Striking out on his own as a marketing consultant, Karl worked not only with numerous music-industry clients, but other businesses which further developed his skill set.

Along the way, Karl authored numerous articles to share his percussion marketing expertise; many are included in the book's appendix. Also included are capsule histories of the Ludwig and Gretsch drum companies, and a good look at the inner workings of the Percussion Marketing Council for the past nineteen years. Pretty much anyone who has worked in the percussion industry over the last five decades has crossed paths with Karl Dustman.

This book has been painstakingly written to provide insights and details to a career that spans over fifty-five years and continues to this day. The huge assortment of photos, internal documents, examples of the many different marketing, sales, promotional product launch materials and massive trade show exhibits are included in each of the nine chapters. The personal stories and Memorable Moments illustrates an ever changing industry filled with products, people, company mergers, brand acquisitions and personal uncertainty for the future through five decades of career development.

This could also serve as an "industry text-book", illustrating the vast differences in the industry's retail, wholesale-distribution and manufacturing environments and workplaces. The journey is not limited to percussion but includes direct experiences with acoustic and digital pianos, electric, acoustic and classical guitars and even sound reinforcement.
WHAT'S BEING SAID ABOUT
"MY LIFE IN PERCUSSION"
Karl's book takes the reader through to a unique time in percussion industry, one of many changes. As family owned companies like Ludwig and Slingerland were purchased by corporations and drum companies from Japan came into the market, major flux in all areas of the business was simply the challenges of everyday work life. The historical accuracy and hundreds of photographs truly show where the industry was and how it progressed. This is a clinic on how to survive in a changing business environment, which is moving even faster today.
Rick Young
Ludwig, Selmer, Slingerland, Yamaha SVP, Retired

Karl's book is his latest contribution to help the business he loves. Full of characters, passion and pain, and unexpected bedfellows, this a must-read for anyone in the music products industry and most importantly, anyone who wants to have a career in it.
Brad Smith
Vice-President, Hal Leonard MI Products Distribution

My Life in Percussion should be required reading for any student that wants to enter not just the music products industry, but the business world in general. Of course, if you're a drummer it will provide insightful details on the drum industry, but it's packed with fundamental business guidance that will never go out of style like, "Give me the work, and I will get it done" which you'll learn in just the first 20 pages. Remember this is 50 years of knowledge and experience edited into 326 pages providing unlimited return on a small investment of just $35.00 and your time reading the material. The appendix alone is priceless. I wish I had this book 30 years ago!
Billy Cuthrell
Music Educator, Retailer, Columnist, Consultant

Karl Dustman's MY LIFE IN PERCUSSION is an inspiring book written by one who has done so much for so many. Dustman not only reflects on his career in percussion and the music industry but also presents a meaningful guide for successfully navigating the challenges of both music and business.
Harold Jones, Professor Emeritus
East Carolina University

The variety of the photos and your wide engagement with all aspects of percussion and the music industry are readily apparent. Your book can certainly serve as a text for anyone interested in pursuing the business aspects of percussion. Thank you so much for devoting the time to capturing and codifying all of this information.
Ruth Cahn
Eastman School of Music, Rochester Symphony Orchestra

Anyone interested in percussion should read this book. Karl's history in the music business is remarkable as well as his insights into the percussion world, past and present.
Well written, easy to read and worth the time.
Richard Berger, President-CEO
Clevelander Drum Company, Grover-Trophy Musical Products

This is really terrific. You have some great photos and memories included throughout, covering your experiences from the golden days of our industry. Thanks for including me in your book, your friendship and contributions over the years.
Congratulations!
Rick Latham
Los Angeles Studio and Touring Drummer, Author and Teacher

Karl Dustman is a percussion and music industry veteran. His book allows the reader a rare glimpse and detailed insight within the biggest names and eras of the percussion products industry. Chronicling his own professional experience in marketing, education, instrument manufacturing and as a seasoned player, he gives us an historical reference for everyone interested in the "business of music".
Mark Yancich
Timpanist, Atlanta Symphony Orchestra

In this age of mergers and acquisitions, Karl Dustman had a front row seat as Ludwig, Gretsch and Sonor were challenged. His extraordinary career as a drummer entering the percussion business makes a great read full of life lessons.
Bravo! Karl and thanks for setting it down on paper.
Peter Kogan
Principal Timpani-(Ret), Minnesota Orchestra, Jazz Drummer & Composer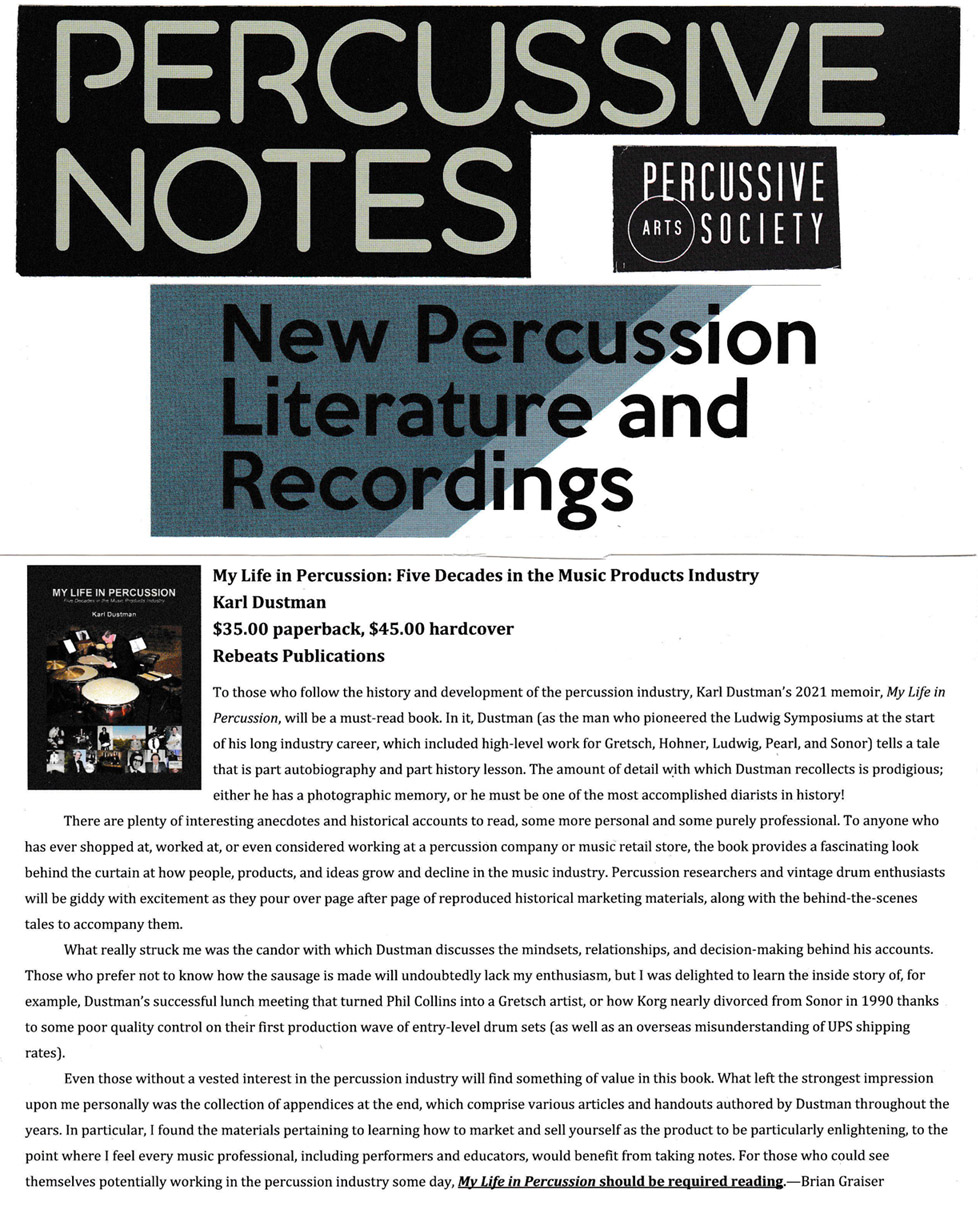 TABLE OF CONTENTS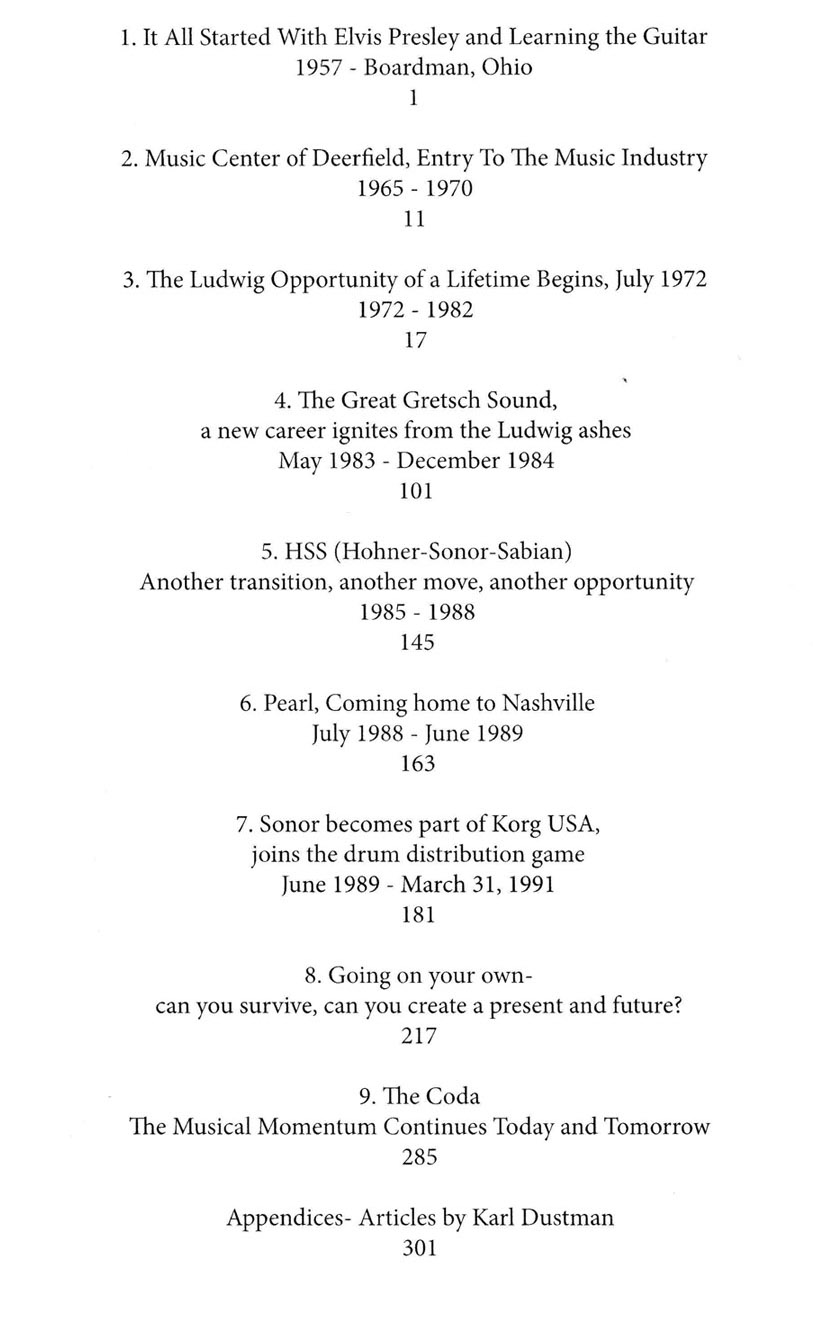 Orders for Immediate Shipment are being taken at:
PROFESSIONAL PERCUSSION PRODUCTS by calling Telephone: 440-877-9674
or E-Mail Karl directly, at kbdustman@aol.com
REBEATS PUBLISHING. Telephone: 989-463-4757, www.rebeats.com
E-Mail: rob@rebeats.com
OR visit Ebay!