Tim Adams Educational Materials
TIM ADAMS NEW EDUCATIONAL DVD
NOW AVAILABLE!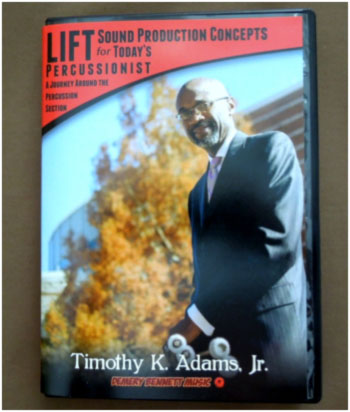 LIFT SOUND PRODUCTION CONCEPTS, for Today's Percussionist is a must-have for anyone serious about their playing, teaching or just picking up pointers and tips.
This Journey Around the Percussion Section is like getting close to a two hour private lesson with Tim Adams, encompassing over thirty orchestral percussion instruments, accessories and sound affects everyone MUST know how to use and play.
Each instrument is clearly played and demonstrated at different tempos and volume levels while Mr. Adams discusses the techniques and sound characteristics required in today's professional performance settings.
By providing both visual and aural performance examples, each instrument is carefully presented with special emphasis on developing the very best sound and tone when playing the instrument.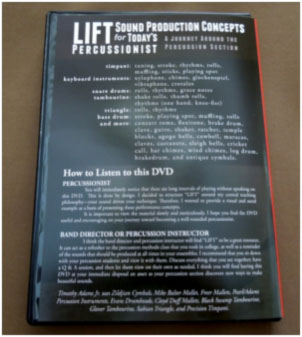 This DVD can be a tremendous educational tool when viewed with a qualified percussion instructor as well as letting the student study the information independently while practicing the various techniques on each instrument. Entire percussion sections, methods classes and music education In-Service requirements will find this entire percussion journey brings to light the many nuances and considerations required in correctly playing the instrument and creating the very best possible instrument sound.
SELLING PRICE: $45.00 plus $5.00 shipping & handling in Continental United States. International orders gladly accepted and shipped all over the world.
75 Tuning Etudes for the Accomplished Timpanist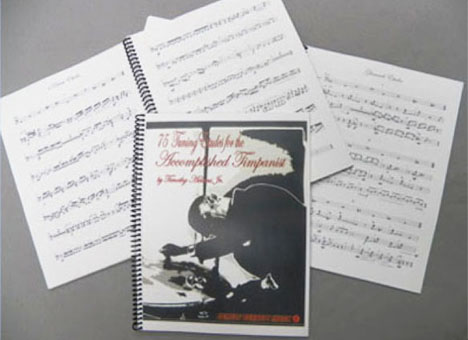 75 Etudes for the Accomplished Timpanist was written for the timpanist to focus primarily on tuning and glisses in a thorough way. I spent a tremendous amount of time during my developmental years working out of the Friese/Lepak timpani tuning book. The book is exceptional! Throughout my education and career I always wanted more of these types of etudes to practice on this particular skill. Now we have it!
Enjoy 75 Etudes! - and remember, as my teacher, the great Cloyd Duff used to say to me often, "It is not a sin to play out of tune, but it is a sin to stay out of tune." - Tim Adams
This is a "must-have" text book for every serious timpani student, performer or instructor. Mr. Adams has composed a complete assortment of practice-performance etudes that can challenge and develop further even the most professional player. The spiral bound book sets perfectly on the music stand, allowing the performer to read Performance Notes on the left hand page, accompanying the respective etude on the right hand page. The book is divided into four specific sections: 40 2-Drum Etudes, 20 3-Drum Etudes, 5 4-Drum Etudes and 10 Glissandi Etudes.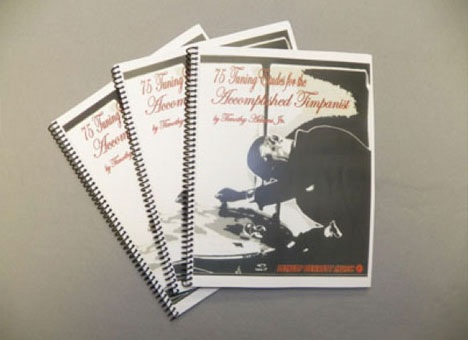 About Timothy Adams Jr.
Mr. Adams is currently the Chairman of Percussion at the Hugh Hodgson School of Music at the University of Georgia. He has previously served as Principal Timpanist of the Pittsburgh Symphony, Indianapolis Symphony, Florida Philharmonic, Canton Symphony, and played extra percussion, timpani and keyboards in the Atlanta Symphony Orchestra and the Cleveland Orchestra.
Professional Percussion Products is proud to introduce this newly published collection, currently in stock and available for immediate global distribution.
Selling price is $40.00 plus shipping and handling.
For Factory-Direct Ordering Visit our Showroom or Contact us to Schedule an Appointment


Telephone: 440-877-9674
Fax: 440-877-9675
Email: kbdustman@aol.com