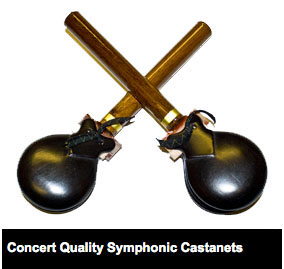 Superior Workmanship Materials,
And Design
That's the Symphonic Castanet
Only the finest materials and workmanship go into these concert-quality imported castanets.
Rick black grenadillo. Lustrious rosewood. And the centuries-old hispanic craftsmanship that demands and draws from these rare woods the best musical tone each has to offer.
Add to this old world artistry and exclusive handle design by Frank Epstein, and all the mastery of crisp, pure articulation is brought within the reach of every orchestra's percussionists.

Now in Two Distinctive Woods and Three Pitch Ranges
Grenadillo castanets are available in three sizes: #5 (small), #6 (medium), and #7 (large). Castanets sized #5 produce a high, bright, cutting sound. Those in the #6 range lower in pitch, with more mellowness to their tone. The large #7 instruments have a rich low pitch and prove especially useful in both very soft and very loud passages. Rosewood castanets are available in the large range and are identified as #7R.
Priced somewhat lower than our other castanets, rosewood represents a less expensive alternative, when the total excellence of grenadillo is not required.
All castanets come with the exclusive Frank Epstein handle permanently moounted for maximum control, rhythmic articulation, and beautiful tone.
""Your castanets are the finest . . . A step forward in the percussion field."
- Brad Spinney, author of Encylopedia of Percussion Instruments and Drumming

Clapper Castanets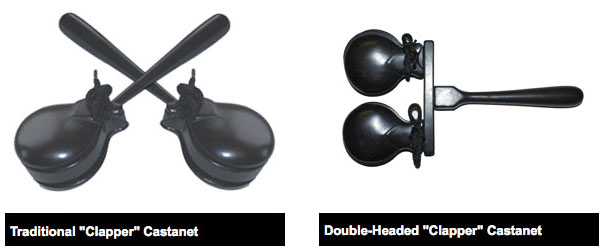 Traditional "Clapper" Castanets
#TCC
Made from heavy, imported wood. Special contoured handle & paddle, carved out for maximum tone. Excellent for soft & loud rolls, as well as crescendo rolls.
Double-Ended "Clapper" Castanet
#DCC
Claves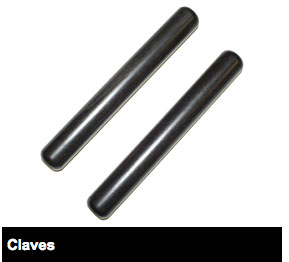 Exotic, full-sound calves.
8" long. 1-1/8" thick.
Choose from heavy Granadillo wood.
Beautiful, resonant sound!
#CL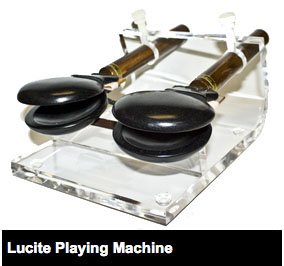 New Lucite Playing Machine
The Symphonic Castanet Playing Machine is a mounting device in rugged, luminous lucite ... designed to position castanets perfectly, for maximum action and response.

Deceptively simple in appearance, the Playing Machine's clear, clean lines are the result of a long development process, aimed at the beauty of pure function.

The result for the percussionist is easy, eloquent performance, combining the best of handle and machine flexibility.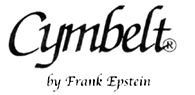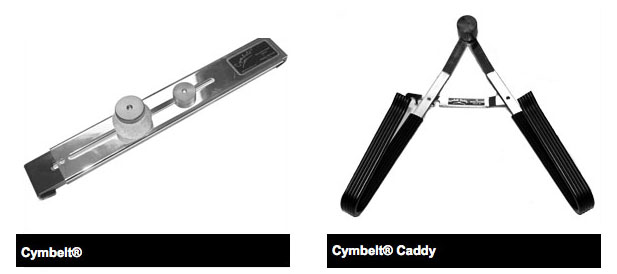 Bass Drum and Cymbal System
Cymbelt
The only way to safely mount a cymbal to your bass drum.
This unit clamps on to both sides of the bass drum and allows the mounting cymbal to be adjusted from side to side.
#C1

Cymbelt Caddy
Hold your free or striking cymbal right where you want it. Adjustable for all cymbal sizes.
#C2





Cymbalisms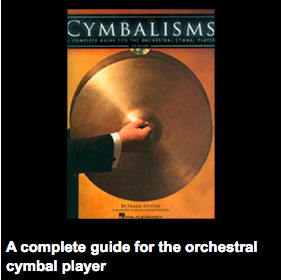 A complete guide for the orchestral cymbal player, Cymbalisms was authored by Frank Epstein. This book shares a host of musical and magical moments in his experience as a member of the Boston Symphony Orchestra. This book/2-CD package discusses the concepts of sound, musicianship, precision, articulation, color, balance, and response in orchestral cymbal playing as it relates to some of the greatest works in the orchestral repertoire. Cymbal players will gain valuable insight on developing a good sound through the many personally developed and formulated strokes contained within. The accompanying CDs feature over 100 excerpts from orchestral literature (performed by the Boston Symphony Orchestra) to help demonstrate the vast array of cymbal techniques and artistry required in the music from the greatest composers of the orchestral repertoire.
#E1
Castanet Carrying Cases
Protect your Symphonic Castanets inside custom-molded polyester and encased in a solid wood constructed case.

Available in two models. #CCC1(small carrying case) and #CCC2 (large carrying case).