Ludwig Timpani and Concert Percussion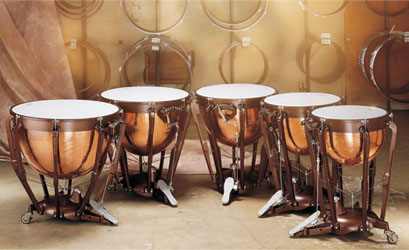 Grand Symphonic Timpani
When symphonies are performed at their most glorious levels, it is not without the sweat of rehearsal, week in and week out. Likewise, the new Grand Symphonic timpani series reflects, in practice, the evolution of design.

To this day, Ludwig's patented Balanced Action™ tuning pedal is widely imitated, yet never matched. Coupled with the new rolled-lip copper kettle specially designed to hang within the suspension ring like a bell, you achieve the most overtone-free pitches ever to sound from a timpani. In Ringer fashion, these kettles are hand-hammered one at a time. Sturdy pull rods are built within the struts for safety, while friction blocks sit astride the main horizontal pull rod, supporting the balanced action on both ends of the range, of a major seventh to an octave.

Grand Symphonic Timpani
Hammered Copper Kettles and Pro Tuning gauges are standard equipment on all Grand Symphonic Models
Remo Renaissance Timpani Heads are available as an option
Available as complete sets of two, four or five drums as well as individual kettles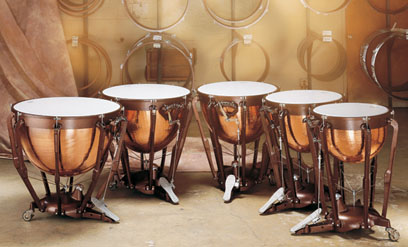 Professional Series Timpani - IN STOCK!
Exceptional resonance, projection, and tone duration throughout all dynamic levels best describe these handcrafted timpani. From leading university and symphony orchestras to talented and accomplished timpanists, Ludwig's Professional Symphonic Series have provided players with the kind of performance their reputations rely on.

Whether copper or fiberglass is preferred, the Ludwig tradition of Old World integrity and superior quality regulates every step of the process. The finest materials are chosen, then meticulously formed to deliver a clear, pure tone. The deep parabolic kettles are calibrated precisely to the pitch-centered tone needed to fill a hall. While kettles hang freely within an exclusive, sturdy double-ring suspension system, Ludwigs proprietary profile mylar heads provide superior resonance in concert halls of all sizes. With an adjustable Balanced Action™ pedal system at its base, operation is smooth and consistent.

Whether its performing more contemporary works or a traditional repertoire, the Professional Symphonic Series offers a sixth in range for maximum playability. This includes the ease of fine tuning the balance of your timpani simply by turning the tension knob conveniently located just beneath the kettle for quick, minor adjustments that won't interrupt your performance.

Professional Series Timpani
Illustrated with Polished Kettles
Available with your choice of Hammered, Polished Copper or Fiberglass kettles
Pro Tuning Gauges are standard, or may be ordered without tuning gauges
Remo Renaissance Timpani Heads are available as an option
Available as complete sets of two, four or five drums as well as individual kettles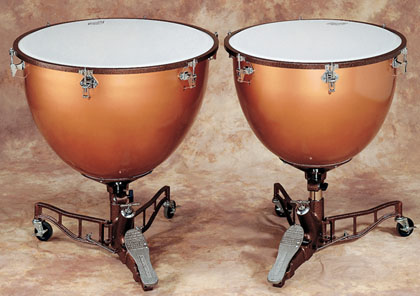 Universal Series Timpani
The Universal Ludwig Model provides a deep parabolic resonant shape in a one-piece, molded fiberglass kettle for rugged construction and enhanced affordability. Plus, you get the same matchless Balanced Action™ tuning you'll find in our premium lines. The pedestal mount and folding legs allow for convenient packing when space is limited. The ultimate portable timpani.


Timpani Universal Series
Universal Series Timpani are equipped with Fiberglass Kettles and Hoop-activated Tuning Gauges as standard equipment
Available as complete sets of two, four or five drums as well as individual kettles
Concert Bass Drums
Select Models IN STOCK!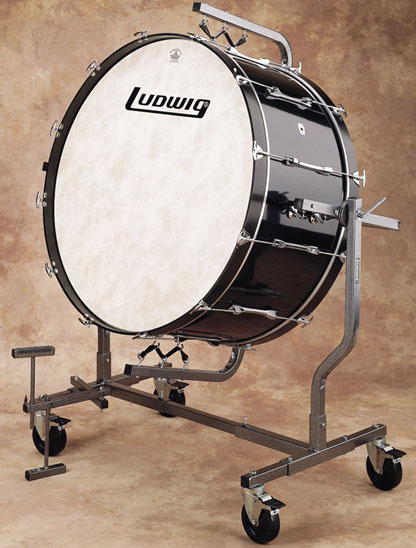 These powerful drums feature specially designed die-molded shells that are cross-laminated and constructed of nine-ply birch and maple. The result is a full, unmistakably pure Ludwig sound.

Additional features include triple chrome-plating, self-aligning lugs, all-wood hoops, smooth white Weather Master or Remo® Fiberskyn drum heads, and the availability of beautiful wood-stained finishes.

Concert Bass Drum - LECB86X8WF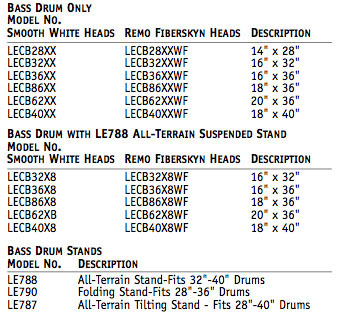 Available in your choice of three natural wood stain finishes or three Cortex covered shell colors.
Concert Toms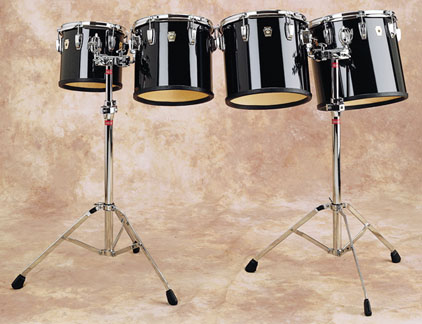 Ludwig's seven-ply birch and Italian poplar shells produce outstanding projection and tonal definition. Strong chrome-plated lugs and triple-flanged hoops are standard. Each single headed concert tom is fitted with a durable protective trim on the bottom bearing edge. Plus, our classic double-tom stands are completely angle-adjustable, featuring tom mounts and large serrated rubber feet.

Concert Toms

LECT04CC
(Set of 4 Drums w/2 Stands) 10" 12" 13" 14"

LECT36CC
(Set of 4 Drums w/2 Stands) 13" 14" 15" 16"

LECT62CC
(Set of 4 Drums w/2 Stands) 6" 8" 10" 12"


Also available as individual concert toms.



Ludwig Snare Drums
Often imitated, never duplicated, Ludwig snare drums have been the industry standard since 1911. The tradition and quality continues on today better than ever with a sound that could only be Ludwig. Listen to any hit song from the 60's through today and chances are you're hearing a Ludwig Snare Drum.

Ludwig Snare Drums are the most toured and recorded snare drum in the world and with good reason. From the smooth round perfection of the bearing edge to the precision cut of the snare bed, Ludwig Snare Drums are in a league of their own.


Black Beauty

One of the primary reasons Ludwig is "the most famous name on drums", is because of the legendary Black Beauty Snare Drum.

The Ludwig Black Beauty brass shell is constructed of a single sheet of brass that is machine drawn and spun into a seamless beaded drum, then black nickel plated with a beautifully exquisite finish. The shell provides a warm, round metallic tone.

With any of the three strainer options of P85 Supra-Phonic, P86 Millenium or P70 Super-Sensitive strainers, the Black Beauty responds with excellent sensitivity at all volumes. Choose from Imperial or tube lugs, die cast or triple-flanged hoops, and a smooth or hand hammered shell. The 70 year tradition of the Ludwig Black Beauty carries on as the ultimate snare drum in the industry.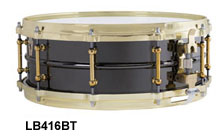 Brass on Brass
Features brass plated P86 Millenium snare strainer, brass plated P33 butt plate, brass tube lugs, brass die cast batter and snare hoops

Classic Maple
Ludwig's wood snares have remained popular throughout the company's nearly 100-year history, and were the drums that helped establish the fat backbeat and deep grooves of pop and R&B music in the 1970's and 80's.
The Classic Maple 7-ply all-maple shell features the clarity and warmth players have come to expect from maple drums, plus the projection and musicality that has maintained Ludwig's reputation for snare drum innovation and excellence.
Available in a wide selection of sounds, sizes and styles, from piccolo, standard and deep models. From lacquer, exotic and wrapped finishes, Ludwig Classic Maple snares are the new Classics of today.

Exotic Wood Snare Drums - IN STOCK!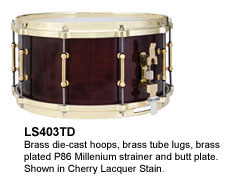 Ludwig offers the most extensive exotic wood snare drum line of any drum manufacturer. In addition to Birdseye Maple and Waterfall Bubinga, 9 stunning finishes from Steinway Pianos are available, along with two exciting Ludwig painted glitter finishes; Arctic and Ruby Glitter (not shown). All Exotic snares have 8 plies of maple with an outer ply of exotic veneer. Brass hardware is available on 5x14" and 6.5x14" drums.
Experience the warm woody snare tone of Classic Maple teamed with the exquisite appearance of the Ludwig Exotic Series.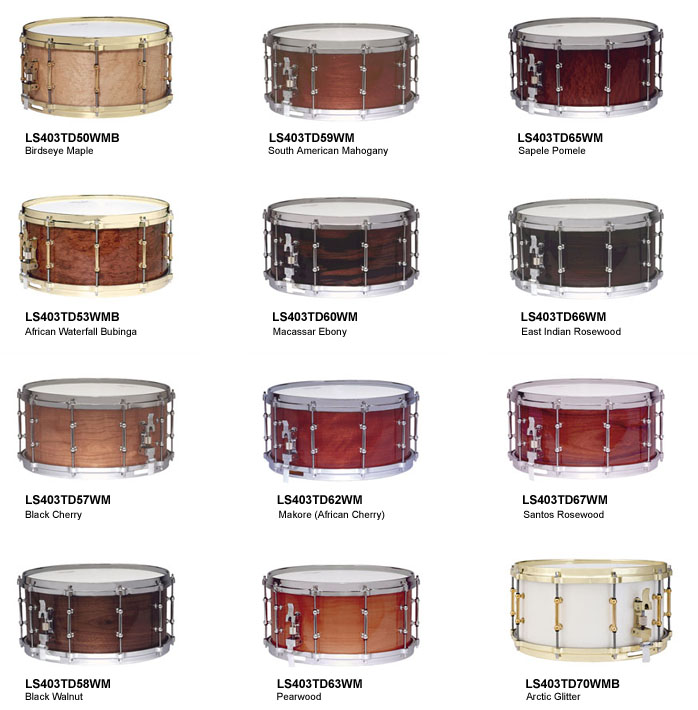 For Factory-Direct Ordering Visit our Showroom or Contact us to Schedule an Appointment
Telephone: 440-877-9674
Fax: 440-877-9675
Email: kbdustman@aol.com