NEW IMPROVED DAVE HERBERT TIMPANI WARM-UP
PRACTICE PAD, exclusively from Professional Percussion Products
The ORIGINAL Dave Herbert Timpani Pad has become a staple of all professional timpanists for over a decade. Re-introduced to the market in 2016, this new improved pad production makes the practice experience even better. Completely hand made in the U.S. this pad uses the exact same pad material specified by Dave Herbert for his personal use timpani pad.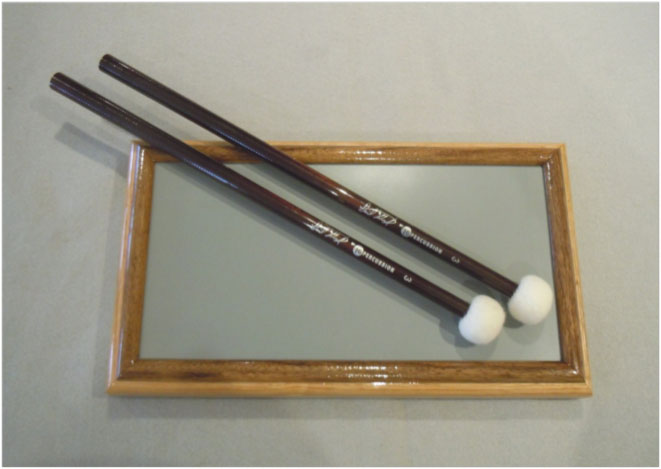 This new-improved model replaces the black plastic insert frame with a contrasting wood trim, making the pad completely silent. We have eliminated all table-top bounce, buzz or vibration, providing an exact timpani head response. This pad includes skid-resistant feet on the bottom and provides for lightweight cymbal stand mounting with a threaded metal insert on the bottom.
IN-STOCK and immediately available at $89.00

CONSIDER the practice possibilities when real timpani are not available - backstage, at-home, dorm-room, practice studio, audition-warm-ups!

By using the standard 29" and 26" cardboard timpani head protectors, you now the visual presence and effect of the total playing surface while directing your stroke impact to the most common and comfortable stick striking area on a PAIR of pads.
Now more than ever, we need readily available solutions to practicing our percussion art while not having access to real timpani at concert halls, practice studios, schools and conservatories. Consider a PAIR of pads - or even a set of FOUR - as many are now doing.
Check out David's Timpani Practice Pad Product Review on YouTube!
NEW! Jesús Avila Percussion YouTube Channel's Unboxing and Review of the David Herbert Practice Pad!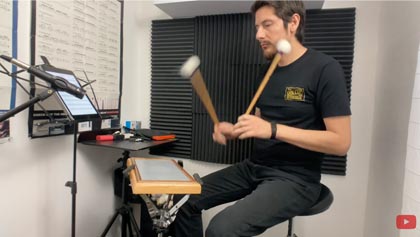 For Factory-Direct Ordering Visit our Showroom or
Contact us to Schedule an Appointment
Telephone: 440-877-9674
Fax: 440-877-9675
Email: kbdustman@aol.com