HEAR ALL THE TREEWORKS WINDS CHIMES . . .
At Professional Percussion Products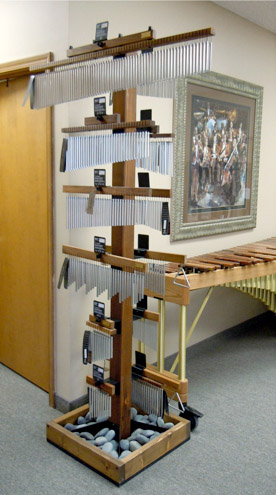 We STOCK AND DISPLAY - the complete line of TREEWORKS Windchimes in our showroom. By having the perfect acoustical environment to test-play, hear and select the windchime, triangle or bi-angle instrument of your choice, you are assured of making the exact choice, before taking your new instrument out of the box.
Our customers specifically request TREEWORKS from all around the globe. In our nine years of operating the orchestral percussion showroom, we have never received a defective instrument from the factory or had a complaint or problem brought to our attention by a customer.
From Symphonic Orchestras, Pops Concerts, Church Choirs and live Show-Bands - the windchime of CHOICE - is always TREEWORKS. When the percussion part calls for "mark tree", - there is no finer sound than a Treeworks.
Schedule your appointment to come in and test-play the entire product line.

For Factory-Direct Ordering Visit our Showroom or Contact us to Schedule an Appointment
Telephone: 440-877-9674
Fax: 440-877-9675
Email: kbdustman@aol.com